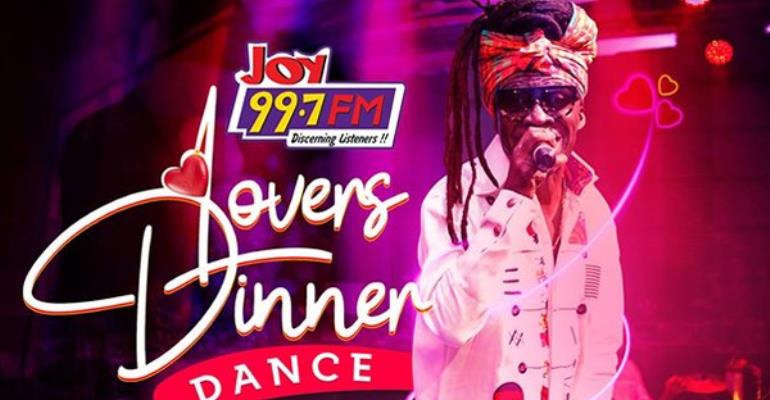 Undoubtedly one of Ghana's most respect musicians, Kojo Antwi is no new customer to quality and excellence. His songs, for decades, have pierced hearts with joy and most often, his shows have become the love haven for many. They are always a never miss event.
These qualities are just but a few of the many gifts the "Mr Music Man" will come baring on February 14 at Joy FM's Lovers Dinner Dance.
The love celebration event, put together by the only station that has your heart at heart, Joy FM, will celebrate love in the most blissful atmosphere – a very intimate one too.
On February 14, Valentine's Day, the Kempinski Hotel Gold Coast City will come alive as hundreds of couples will dance to classic tunes like "Amirika," "Nfa Me Nko Ho," "Densu," "Adiepena," "Me Dee Ne Wo A," "Odo Ano Wappi," "Medofo Pa," "Dadie Anoma," "Me Nya Ntaban A" and host of others from the music maestro.
Patrons to the never to miss event, will enjoy a night of good music, which is a blend of Ghanaian highlife, Congolese soukous, Caribbean lovers rock, with a dash of African American soul and R&B.
For those who do not know, Kojo Antwi was born with music in his blood. After leaving school, he started his music career immediately by playing with the band Boomtalents.
Later, he became the front-man of Classique Vibes, formerly known as Classique Handles.
Eventually, Kojo had to go solo and after going solo, his first solo album, 'All I Need is You', which released in 1986, became a chartbuster in Ghana.
He has never looked back since then. His impressive catalogue of albums also include "Anokye" (1989), "Groovy" (1994), "Mr Music Man" (1992), "To Mother Afrika" (1995), "Superman" (1998), "Afrafra" (1999), "Don't Stop the Music" (2000), "Akuaba" (2000), "Densu" (2002), "Alpha" (Compilation) (2003) "Tattoo" (2006), and "Mwaaah!" (2009).
He has, over the span of his illustrious career, bagged all the key awards that matter. He has been awarded by the All Africa Music Awards (AFRIMA), Kora Awards, and Ghana Music Awards.
In 2010, he became the first Ghanaian to be nominated for the Black Entertainment Television (BET) Awards in the 'Best International Act' category.
For a cool ₵800 per couple – dressed in anything nice with a touch of red -, a cliquey atmosphere of music, good food, drinks and people awaits lovers on Valentine's Day with Mr Music Man.
Tickets go on sale from January 31 at the Front Desk of Joy FM.
—Myjoyonline