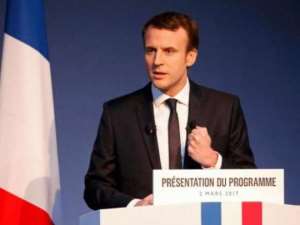 Accra, July 20, (UPI/GNA) – A security aide of French President Emmanuel Macron will be fired for beating a protester weeks ago at a demonstration in Paris, the president's office said Friday.
Video taken at a May 1 demonstration in Paris showed Alexandre Benalla, dressed as a police officer, striking a protester after wrestling another to the ground.
Benalla is not a police officer, but was allowed to "observe police operations" during a day off on the day of the demonstration, Macron's office said.
Officials said Benalla was suspended for two weeks after the incident.
"This sanction was to punish unacceptable behavior and it was a final warning before being sacked," Macron spokesman Bruno Roger-Petit told reporters.
Benalla faces charges of violence and impersonating a police officer. The latter could bring one year in prison and a fine of over $17,000. The French public prosecutor began investigating Friday.
Macron's slow reaction has caused a political scandal among the public and lawmakers in Paris.
French politicians have asked how a person could wear a police uniform and commit violence without being stopped by police. Other questions have also been asked about why the incident was not immediately referred to the prosecutor.
GNA