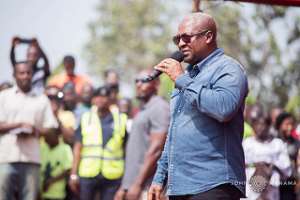 Former President John Mahama is saddened by the murder of the two MTTD officers at Gomoa Budumburam in the Central Region.
In a post to commiserate with the bereaved families, the flagbearer of the National Democratic Congress (NDC) demanded that the individuals who committed the atrocity should be made to face the law as soon as possible.
Two MTTD officers–- Sergeant Michael Djamesi and Lance Corporal Mohammed Awal — on Wednesday lost their lives when occupants of a vehicle they signalled to stop opened fire on them along the Kasoa to Budumburam stretch.
"Sad to learn, yet again, of the gruesome killing of two policemen in Kasoa. Our law enforcement officers are doing their best under very challenging circumstances to protect life and property. I, therefore, condemn the increasing spate of violence against them", Mr. Mahama wrote on Facebook.
Also, the former President asked for tough measures to be instituted in order to avert the violent attacks meted out to police personnel.
"May their families be consoled and may the perpetrators be brought to justice sooner than later. We must put in place stringent measures to help protect our men in uniform."
So far three suspects have been arrested in connection with the killing of the officers.
Police in the Central Region also said efforts are being made to arrest a fourth suspect in connection with the crime.
The vehicle involved in the crime has been impounded to help with police investigations.
While the Regional Police Commander condemns the dastardly act describing it as an unfortunate incident, he has also indicated that three liaison officers have also been appointed to be a link between the police and the families.
—citinewsroom