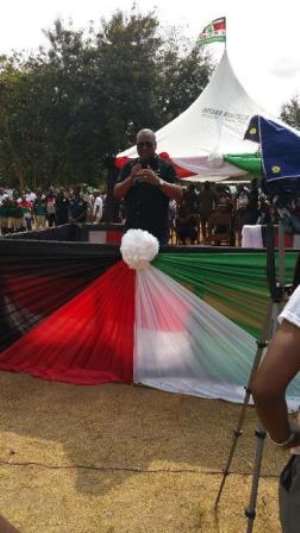 Former President John Mahama is set to begin a six-day campaign tour of the Volta region from Monday, January 28, to February 2, ahead of the Party's presidential primaries on February 23, 2019.
Mr James Gunu, Volta Regional Secretary of the Party told the Ghana News Agency (GNA) that Mr Mahama would engage delegates in all constituencies on his vision for the NDC and the country and solicit their votes at the primaries.
He said the former President would also meet Party executives and other key stakeholders in the Region on recapturing power in 2020.
Mr Gunu said the Regional Secretariat was working to ensure a successful tour and called for support of all.
Meanwhile, GNA has spotted posters in the Regional capital and its outskirt welcoming the former President, who is seeking to lead the NDC into the 2020 general elections.
The former President had already toured the Central, Upper West, Upper East and the Northern Regions.
He also visited all constituencies in the Greater Accra, Brong Ahafo, Ashanti, Western and Eastern Regions to seek the mandate of delegates.
—GNA