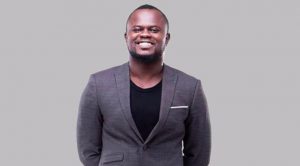 Gospel musician Cwesi Oteng has expressed his admiration for renowned actor Majid Michel on his evangelical works.
The musician surprised the celebrated actor by coming into the studios of Hitz FM, instead of an initial arrangement to grant a phone interview, during the 'This is Gospel' show with Franky 5.
For some time now, Majid Michel has been spotted at several churches ministering. Recently, he visited the Zoe Chapel International at Tabora in Accra to preach to the congregation.
In his submission, Cwesi Oteng said, "I can't imagine what he will do in the next five years, it will be amazing. We have a leader. Somebody who will transform the status quo, how people think, what people can achieve, what young people can do and it has begun and it's just amazing."
"The kind of stuff I've heard him talk about is a revolutionary achievement, a wake-up call for young people to be able to direct their talent, direct their mind, direct their goals and where to put their lives.
"It's just amazing to have Majid and it's not just about his talking. It's about praying and also moving in the power of God," he said.
He also described Majid as a Jesus look-alike who yearns to see change amongst the youth.
"It's a real transformation and you know he also looks like Jesus," he observed.