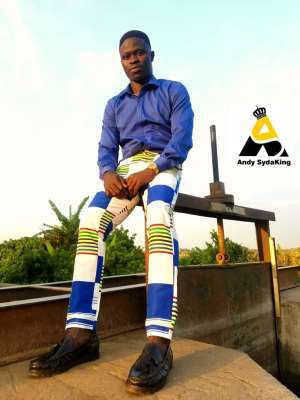 Andrew Sowah professionally known as ANDY SYDAKING, is a Ghanaian Reggae and Dancehall recording artist, who hails from Osudoku(Asutsuare) in the Shai-Osudoku district of the Greater Accra Region.
ANDY SYDAKING is partially blind, but only sees that as a mere challenge in life, so he doesn't go on the street begging like the others do.
Today, he can't see shadows or forms, but still has light perception. And so his only escape from depression became singing.
His a versatile musician, and a very energetic performer with popular hit songs to his credit; among them are- African products, prison, Humble lion etc.
The star singer made it known to Nankwe Hassan when he was questioned about his condition and how musical talent and blindness have often been difficult to be linked.
"I didn't tell people that I was blind not because I was ashamed, but because I didn't want it to affect the way they perceived the work.
Basically, what I do is replace everything that the eyes would do for an artist who can hear with my sense of touch."
"It helps me overcome everyday stress; when I'm upset I go to music," Andy says.
Blindness can become the final point for any artist. But not for ANDY SDYKING. The loss of vision actually helped him discover his genius and develop his unusual talent.
He has had the opportunity to perform on major platforms like the Ghana rice Festival in Accra, The Viasat 1 Homowo Fiesta at the Trade Fair in Accra and others. Although Andy hasn't got a hit yet, but he is still working hard to get a hit for his fans and Ghanaians.
Keep Supporting ANDY SDYKING the founder of Sylla City Family.