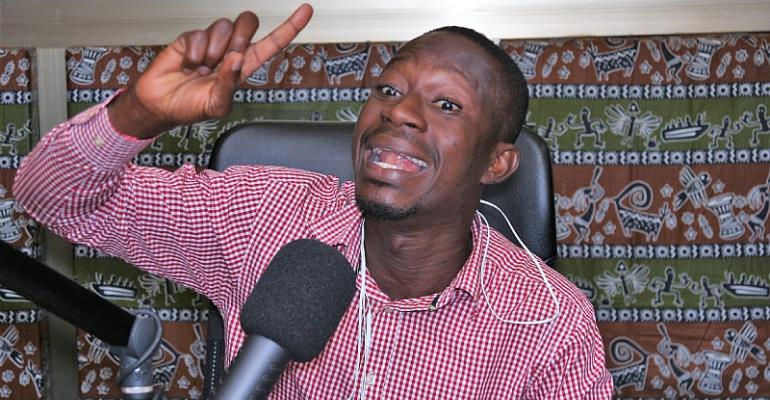 The Director of Youth Employment Agency in the Adentan Municipality has lashed out on the National Communication officer of the opposition NDC, Sammy Gyamfi for depicting what he describes as "double standards" in the Menzgold saga.
Mr Abdul Ganiu stated on the breakfast show of Radio XYZ 93.1, Ete Sen that Mr Gyamfi's recent comments on the Menzgold crisis at a press conference smacks of double standards.
At the presser on Wednesday, January 16, 2019, Mr Gyamfi alleged that the then candidate Akufo-Addo received cash from Menzgold's Nana Appiah Mensah who has been arrested in Dubai for alleged fraud.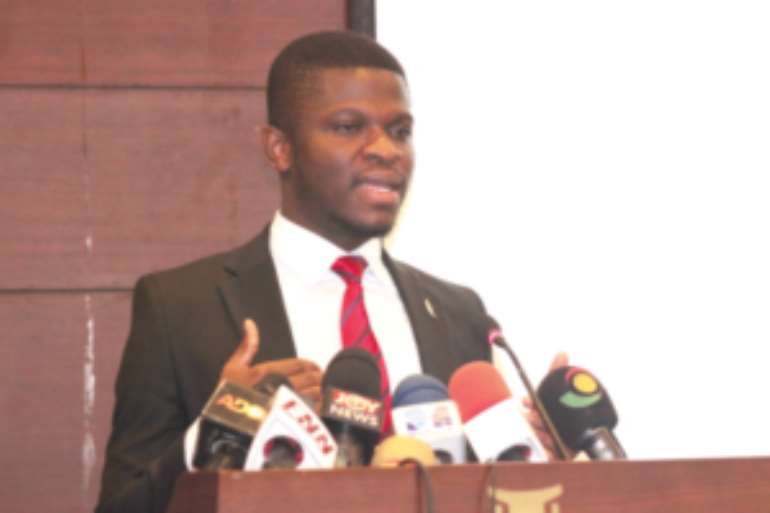 Sammy Gyamfi
According to the NDC spokesperson, Nana Akufo-Addo's association with Mr Appiah Mensah, popularly known as NAM1 is the reason government dragged its feet in dealing with him when he was unable to pay his customers their dividends after Securities and Exchange Commission (SEC) shut his gold firm for authorisation breaches in September 2018.
SEC said Menzgold was taking deposits from clients and paying them interests contrary to what its license mandated.
Thousands of aggrieved customers have demonstrated across the country, asking government to ensure that Menzgold reimburses their cash values to them.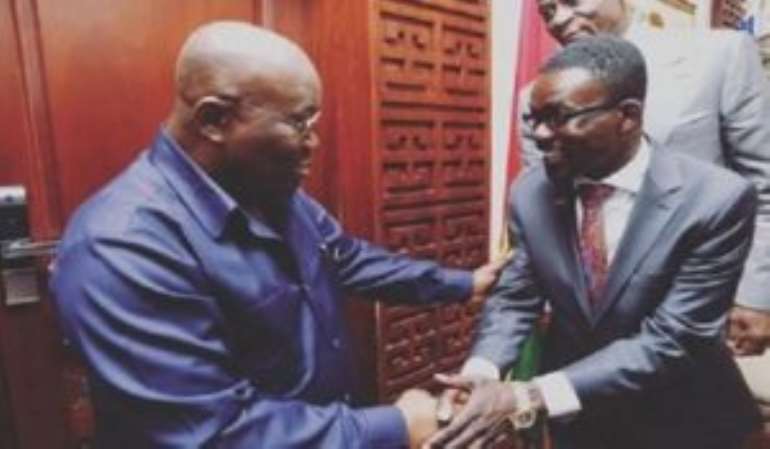 Nana Akufo-Addo and NAM 1 exchanging pleasantries.
Mr Gyamfi told journalists at the press conference that: "The Akufo-Addo government is complicit in this matter…government cannot feign ignorance of events which have led us to where we are today."
But the ruling New Patriotic Party (NPP) believes the NDC only wants to score "cheap political points" out of the situation that is on the lips of almost every Ghanaian.
Abdul Ganiu did not mince words at all when he took Sammy Gyamfi on over his recent comments which suggested the CEO of Menzgold is a fraudster.
He said: "Sammy Gyamfi has credibility deficit" Mr Ganiu said. "He went on Asempa FM and accused Nana Akufo-Addo, saying he should allow Menzgold to operate. He called the president all sort of names and said he was collapsing individual businesses. That was when the government took an action against Menzgold after realising customers' monies were being taken. So what does he mean when he call NAM 1 a fraudster?"
To him, the NDC communicators are confused because they have now turned to accuse the owner of a company they once defended.
NAM 1's Arrest
Last week, a court ordered for the arrest of NAM1 and some directors of his company for defrauding by false pretenses.
The bench warrant for the arrest of the MENZGOLD CEO came after President Akufo Addo's nephew and close confidant, Gabby Asare Otchere Darko suggested in a Facebook post that Nana Appiah Mensah had already absconded to South Africa through Togo and Nigeria.
Later, news went round that the Police CID Boss, COP Maame Yaa Tiwaa Addo Danquah had denied knowledge of any investigation or the jumping of bail by Nana Appiah Mensah.
But that was later denied as information gathered by myxyzonline.com indicated International Police (INTERPOL) was put on red alert to arrest NAM 1.
On Monday, it was confirmed that police in Dubai had arrested Mr Appiah Mensah. They informed their Ghanaian counterparts that the suspect had been in their custody since Friday, December 7, 2018.
A high powered Ghanaian delegation has gone to Dubai to begin talks with Dubai authorities on the next step to take over the matter.
The delegation includes Deputy Attorney General, Joseph Kpemka, a representative from the Economic Organised Crime Office (EOCO), the Bureau of National Investigation (BNI) and National Security.
Mixed Reactions
As customers of Menzgold await the extradition of NAM 1, there have been mixed reactions over the issue.
Renowned lawyer Nana Obiri Boahen is skeptical Menzgold CEO Nana Appiah Mensah will be released to Ghana, following his arrest in Dubai.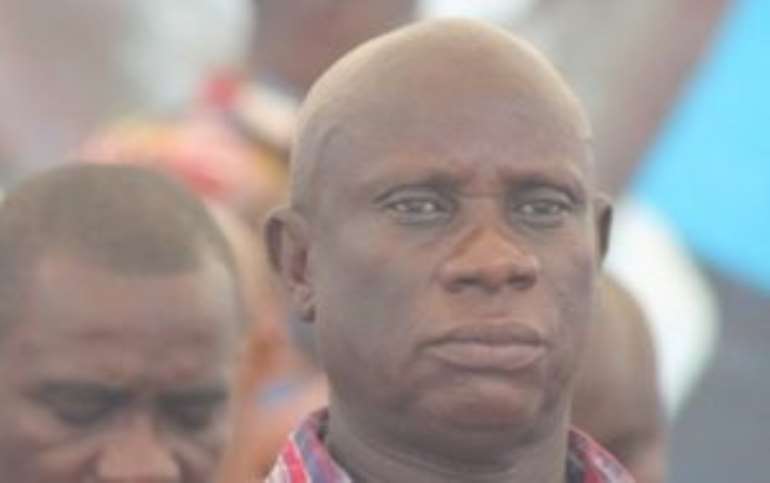 Lawyer Obiri Boahen
The disgruntled customers of Menzgold may have heaved a sigh of relief following news of NAM 1's arrest, but the deputy General Secretary of the NPP says he may not be trialed in Ghana.
"We are told he defrauded some company in UAE so they will deal with him in accordance with the UAE law", he told Kwame Minkah on Ete Sen on Radio XYZ 93.1 on Tuesday.
"….I am not discouraging the delegation that has gone to Dubai, but the authorities there can decide to keep him there, he added.
However, he believes the laws will deal with NAM 1 when he is brought to Ghana.
On his part, former Member of Parliament for Madina, Alhaji Seidu Sorogho has also alleged the CEO of embattled gold dealership firm is a close friend of the first family.
Speaking on Inside Politics on Radio XYZ 93.1 Wednesday afternoon, Mr Sorogho said he was reliably informed the business man is a friend of Nana Akufo-Addo, and the two have had several meetings – a reason many Ghanaians invested with Menzgold.
"Nana Appiah Mensah is close to the president. In fact he has pictures with the president and that is the reason people trooped to invest so much with Menzgold," Alhaji Sorogho said stressing that many affected customers of the defunct company have openly disclosed they were encouraged to invest with Menzgold because of the endorsement of state officials.
Alhaji Sorogho the president has a responsibility to calm the nerves of the thousands of aggrieved customers to prevent any future unrest that may occur from their frustrations.