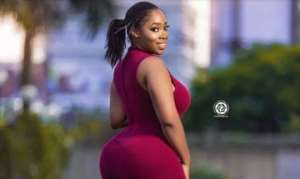 Social Media slay queen and socialite Moesha Boduong has flaunted her curviness, ride, wardrobe and luxurious travels in the past.
Now the hottie social media slayer has flaunted yet another of her valuables, and this time, it's a landed property.
In the latest post of Moesha, she poses in front of an uncomplete building spreading her arms in the air right before the facility.
The caption that came with the photo read, "Grateful…God is good… Adjiringano landlady."
Moesha has been lambasted over the years for being popular for doing absolutely nothing except flaunting her curves on social media.
She also came under serious attack for stating in her interview with American news giant, CNN, that Ghana's economy is so bad women like herself have had to date married men to take care of expenses like rent, car etc.
The model who acts sparingly in some local movies seems to be making a headway if her latest post is anything to go by.
See post and photos of Moesha Boduong below.