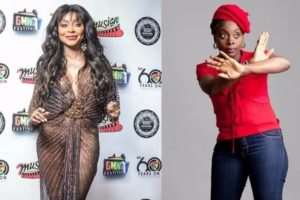 UK-based Ghanaian singer and performer Stephanie Benson says her sense-free spiritedness as well as her bare it all fashion style, is shared by her sister Akosua Adjepong.
According to her, her sister, now turned Gospel musician, has gone easy on that in recent years.
Stephanie Benson is noted for her provocative fashion appeal which includes bare-it-all boobs and low cuts, has not shied away from shoving it in the face of the public.
At the 2017 Ghana Music Honours in Accra, she was spotted in a see-through gown, revealing a lot of skin underneath, as she presented MzVee with the 'Best Female Artist Honour'.
That has not gone without criticism from a section of the public who say the 50-year-old mother of five, should know better. In essence, they want her to be the model mother she should be.
However, in a rather spirited defense of her fashion taste, the singer said she is unperturbed by criticisms and insists that contrary to the perception of others, Akosua Adjepong was similar to her in many ways.
"Akos and I are the closest. Akos and I are the craziest in our family. Akos and I are very similar. I may be crazy in dress sense and maybe [in] attitude and what not; Akos is very much like that too," she said.
Though Stephanie Benson points out the similarities between the two, she believes that what accounts for the seeming laid back nature of her sister is her bid to accustom herself to Ghanaian norm.
She added "Just because Akos is married to a Pastor doesn't mean she's dead. When we were together, we were as crazy as hell."
Source: Myjoyonline.com