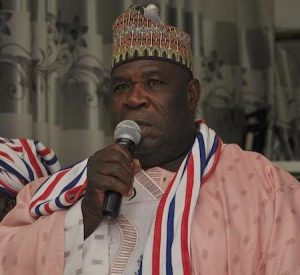 Northern Regional chairman of the governing New Patriotic Party (NPP), Daniel Bugri Naabu has hinted at giving a vehicle given to him by former president John Mahama allegedly as bribe, to charity.
"… I think we are going to give it to charity. We are not going to use that car," he told Joy FM's Elton Brobbey on Tuesday, January 24.
Mr Naabu said late last year that he did not need the controversial GHS500,000 and cars doled out to him by Mr Mahama.
"What is GHS 500,000? What is a car? Me, when I started buying cars, expensive cars, John Mahama was a student. He was a student at Ghana College," Mr Naabu had said when he received some regional and constituency executives of the All People's Congress at his residence in Tamale in December 2016.
In December last year, at a press conference by then NPP flag bearer Nana Akufo-Addo's spokesperson, Mustapha Hamid, the party alleged that Mr Mahama and his brother, Ibrahim, in October of the same year, attempted buying Mr Naabu so he would resign from the NPP and launch an acerbic tribal campaign against Mr Akufo-Addo by painting him as a "hater of northerners".
"He [Bugri Naabu] was supposed to resign from the NPP, damage Akufo-Addo as an anti-northern person, a rabid hater of northerners, and, in turn, they were going to give him: a brand new V6 Mitsubishi vehicle, a brand new V8 Land Cruiser [and] GHS3.3m.
"Bugri Naabu is owed by government to the tune of GHS247,000 from road contracts that he has done which government has not been paying for several years. They promised to pay that money instantly and then on the spot, they brought him GHS 500,000 cash in GHS50 notes. Ibrahim Mahama dropped it right in front of him [Bugri Naabu].
"It's terribly sad. This country is in serious trouble, we need to rescue this country from serious trouble. The presidency has been so depraved, so muddied, so dirtied that I tell you in all sincerity as a Ghanaian that I feel terribly sad as a Ghanaian," Mr Hamid said.
He continued: "And then they gave the money to Bugri Naabu and he took the money and left, it was a Friday, 28th of October 2016, so the very next day was a Saturday and Bugri Naabu found the one Prudential Bank that he knew would be opened at that time; that Abossey Okai branch of Prudential Bank and then he went and deposited the money in his account.
His account number is 0090985590013, account name is Daniel Bugri Naabu. And out of that money, immediately Ibrahim Mahama told Bugri Naabu to take GHS50,000 out of it and give it to Alhaji Awal – the go-between; the man who facilitated the meeting and that they will replace the GHS50,000 later. A few days later at Bugri Naabu's daughter's funeral in Tamale, true to word, President Mahama sent a high-powered delegation to Bugri Naabu's daughter's funeral, led by Deputy Chief of Staff Kenneth Wujangi.
There was Dr Mustapha Ahmed in that delegation, there was Ibrahim Mahama himself in that delegation and then the president went and gave Bugri Naabu an additional GHS 10,000. In other words, a donation of GHS 10,000 was made on behalf of the president and Ibrahim Mahama himself gave GHS 20,000 as funeral donation."
He said days later "… they delivered the brand new Mitsubishi V6 – it is actually parked in this yard now – when we finish, journalists can go and have a look at it. Now these are the original documents of the Mitsubishi V6. This is Bugri Naabu's picture that they have put on it. 2 November 2016 was when the change of ownership was done but this vehicle was imported in August of 2016 and it originally was imported and is owned by a company called Malin Investment Company Limited.
So we ourselves did a check with the Registrar General to find out who are the owners of Malin Investment Company Limited and the two directors of Malin Investment are one Hawa Hayifi Ayi Mahama and Frank Nuhu Alormator (Frank Alor). And Frank Alor everybody knows is the personal assistant to President Mahama. … Hawa Mahama, I leave you to go and find out [who she is] … but I'm sure you can infer that she is a sister of the President but you can find that out. But what we are sure of [which] everybody knows is, Frank Alor, who is a personal assistant to President Mahama.
I'm sure all of you journalists know him. So they jointly own Malin Investment which is the company that originally imported the vehicle which they have given to Daniel Bugri Naabu to bribe him to destroy Akufo-Addo and make sure that northerners hate him and that he doesn't get a vote in the north. Ladies and gentlemen, we cannot run a country like that.
You recall that just a few days ago they brought Harruna Attah who they've given an ambassadorial position in Namibia to lie through his teeth that Akufo-Addo had told him that no northerner can ever lead our party. Now this revelation should tell you that it is just a carefully orchestrated scheme. When I refuted it, I'm sure a lot of you were saying: 'Um, is it really true that Akufo-Addo didn't say that?' But now it is very clear that there's an ethnic, ethnocentric, tribal agenda that is meant to incite hatred against a good man who has been fighting all his life for the Ghanaian project, Nana Addo Dankwa Akufo-Addo, Allah shall fight for Akufo-Addo."
Following the allegation, General Secretary of the governing National Democratic Congress (NDC), Johnson Asiedu Nketia, said only fools will believe that Mr Mahama and his brother attempted bribing Mr Naabu.