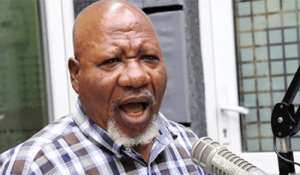 The National Democratic Congress (NDC) has announced that it has suspended Bernard Allotey Jacobs for his persistent anti-party conduct.
The decision is coming on the back of an earlier release from the National Communication Bureau of the main opposition party which noted that the party was going to boycott Peace (104.3) FM's morning show (Kookrokoo).
The party explained, "This decision has been occasioned by the unfair paneling system that the Production Team of that program has continuously foisted on the NDC over a number of months."
The party added, "Specifically, the reason for this boycott has to do with the unreasonable decision of the Producers and Host of the program to permanently reserve one (1) of the two (2) slots the party has traditionally had on Wednesdays on the show to Mr. Allotey Jacobs, who is often introduced by the host of the program as a "Social Commentator with strong leanings to the NDC".
In another statement from the NDC this evening, the Functional Executive Council confirms his suspension.
"The Functional Executive Council (FEC) of the National Democratic Congress (NDC) acting on behalf of the National Executive Committee (NEC) of the party, at its meeting on Wednesday, the 6th of May, 2020, has suspended you forthwith as member of the party pursuant to Articles 46(1), 46(6), and 46(8) b of the party's constitution for your persistent anti-party conduct", a statement signed by Samuel Ofosu-Ampofo said.
Meanwhile, the matter has been referred to the Disciplinary Committee of the party for further action.