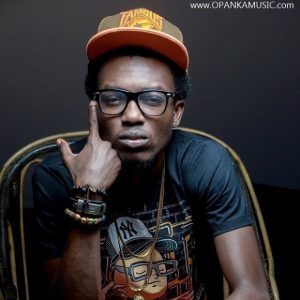 Ghanaian Rap artiste Armstrong Affum popularly called Dadie Opanka has dispelled assertions that secular musicians are bad influence to Ghanaian youth.
He bemoaned the name a section of the public have tagged people in the creative arts and entertainment industry adding that not all celebrities smoke 'weed' or drink alcohol when they go on stage.
The 'Tietie' hit maker who has been embarking on his Senior High School (SHS) tour #say no to drugs and alcohol' educating students on the dangers associated with drugs.
He allayed fears that secular musicians can not impact positively on the lives of the youth.
Speaking on Ultimate E-Review hosted by Naa Klordey Odonkor, Opanka said 'weed' addicts are mostly controlled unawares.
He admitted some of his colleagues sniff carpenters glue and 'weed' just to be high intimating that he has never smoked as an artiste.
He bemoaned the smoking and drinking attitudes of his colleagues saying they just waste monies they could have invested in properties.
Opanka added that musicians who smoke 'weed' are unable to be creative hence his decision to embark on the drug tour to change the mindset of people who think that without drugs they cannot perform or be treated as important people.
'When you are a musician, let me say a secular musician, the parents, teachers like our society, the perception out there is that we influence the kids negatively. So sometimes when a mom or a dad sees their kids listening to secular music, they want them not to listen to it, it's because they think we are bad influence on the society.
So I thought no that is not how it is, they see us to be smokers and drinkers, never have I smoked as a musician, my hood is where they sell those stuffs, like chunk, tyre, dandus, those kind of drugs, I grew up seeing it, and how it messed people's lives… so I said let me show the parents we are not bad influence,' he explained.
He entreated students not to be influenced by alcohol and drugs. 'Don't let whoever is taking care of you be disappointed in you, at the end of the day, you give them broken hearts, be responsible'.
Opanka who has released his new album titled 'Akwaaba' performed over the weekend at the Kumasi Technical Institute (KTI).
Opanka has so far been to some schools in the country educating the students to abstain from drugs.