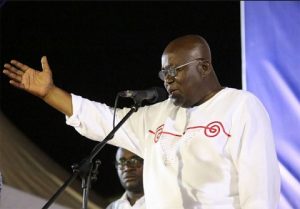 Presidential Candidate of the New Patriotic Party (NPP) Nana Addo Dankwa Akufo-Addo has urged calm among the rank and file of his party as official figures are awaited from the Electoral Commission, Ghana (EC).
According to him, the NPP has won 49 extra seats to its total in the Sixth Parliament given the party's tallying of results and "believe we have also won the main contest".
He expressed gratitude to his fellow 2016 presidential candidates including Ivor Kobina Greenstreet, Nana Konadu Agyemang-Rawlings and Dr Papa Kwesi Nduom, who have called to congratulate him.
Addressing journalists at his residence on Thursday, December 8, Nana Akufo-Addo said his party remains confident that "we have won a famous and historic victory".
He says as they await the official figures from the country's elections management body, Ghanaians should brace up for new policies that will uplift the economy of the country and guarantee jobs.
"That is our main task and it is a task that we are going to take with a 100 per cent seriousness." Flanked by his running mate, Dr Mahamudu Bawumia, and other leaders of the NPP, Nana Akufo-Addo expressed gratitude to those who have ensured that the party "secured" a much-anticipated victory in Wednesday's polls.
"Time will come for me to pay special tribute to my family," he stated but did not fall shy of expressing indebtedness to Dr Bawumia and "revelation of our campaign" Mrs Samira Bawumia.
Nana Akufo-Addo claims there is an "excellent" team that is going to work tirelessly in transforming the economy of the country.
The Commission is, however, yet to come out with official figures of the December 7 presidential polls.
It has, however, indicated that the declaration will be done not more than 72 hours after close of polls.
Nana Akufo-Addo assured all gathered that the party will announce the way forward after the official declaration of results is done by the EC.