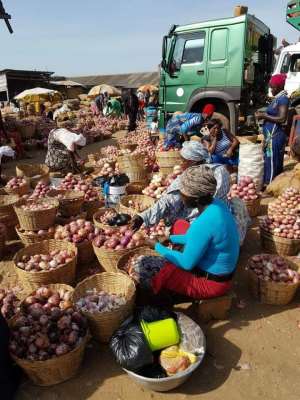 Onion sellers at the Agbogbloshie market in the greater Accra Region are demanding an immediate apology from New Patriotic Party 's(NPP) loyalist Hajia Fati for what they describe as a derogatory remark against onion sellers.
Their agitation is culled from the alibi Hajia Fati used to somewhat justify her assault on Ohemaa Sakyiwaa ,a journalist from the multimedia group at the party headquarters last Friday.
Hajia Fati who admitted to assaulting Ohemaa Sakyiwaa Ahwenepa in her defence said, she had no idea Sekyiwaa was a journalist because she did not introduce herself as such but thought she was an onion seller per her mode of dressing.
"I had no idea she was a journalist because she did not introduce herself to me… I thought she was sent by Sammy Crabbe to come and take pictures of me. She did not do the work of a journalist. She looked like an onion seller in some market" Hajia Fati said.
Her statement has infuriated onion sellers in one of the biggest markets in the region.
Speaking with Hot 93.9FM's Awal Saeed, onion sellers at the agbobgloshie market expressed their displeasure at Hajia Fati's comments that sought to undermine their source of income and belittle their person.
"Hajia Fati should come out and apologise to us for the disrespect she has showed us. Selling onions is not a crime, it's an honest Job which serves as a source of income for our families. So we will not accept such unsavoury comments against us. So we demand that she apologise immediately or expect a demonstration" They declared.
Listen to the full interview in the audio below!
https://soundcloud.com/user-168295290-700846614/morning-show-8518