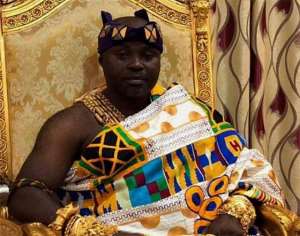 The late Oheneba Kwadwo Aforduor
Police investigators are currently examining evidence collected at the scene where the lifeless body of Otumfuo's Asamponhene, Oheneba Kwadwo Aforduor, was found.
This crucial assignment, according to police sources, would go a long way to help unravel what actually led to the death of the traditional leader.
Reports gathered by DAILY GUIDE indicated that police investigators from Kumasi managed to pick what could be vital evidence at the crime scene to aid the investigations.
Aside from the evidence gathered at the crime scene, the police investigators have also picked key information from prospective witnesses and some suspects who were arrested in the initial stages in connection with the chief's murder.
According to DAILY GUIDE sources, the evidence gathered as well as the autopsy report had been sent to the Police CID Headquarters in Accra for final analysis, and modern electronic gadgets are expected to be used to authenticate what has been done so far.
Suspect Still At Large
Meanwhile, Sadat Mohammed, aka 'Alhaji or Mallam', 38 – the man the police had declared wanted for allegedly murdering the Asamponhene – is still at large.
There are reports that the suspect was in the company of the Asamponhene on the day that the traditional leader was found dead in his car at Ebuom on the outskirts of Ejura on Sunday, August 18.
Surprisingly, Alhaji, who was said to be a good friend of the late chief, vanished from Kumasi few hours after the death of the chief was announced.
According to reports, Alhaji vamoosed with his wife, who is said to be one of the queen mothers in the Pekyi area in the Ashanti Region.
Benin & Mali
The Alhaji is said to have links in Benin and Mali but there is no official information that he has left Ghana, even though the police said he and his wife could not be found in Kumasi.
—Daily Guide