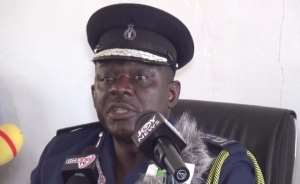 The Inspector General of Police (IGP) has said government's provision of protective gears like body amours and logistics to the police shows its commitment.
David Asante-Apeatu said this will go a long way to prevent the loss of lives of personnel on duty in areas prone to attacks and enable them to work effectively.
His statement is in reaction to the recent ambush attacks and killing of police officers in Agogo and Droboso in the Ashanti Region.
Speaking to the press at Ho in the Volta Region, as part of his regional tours, he said the service is already taking delivery of some motorbikes and is expecting more from government.
"Officer safety gear is very important and government's attention has been drawn to it. All that we need to protect ourselves will be provided," the Mr Asante-Apeatu said.
The IGP reiterated that in-service training in order to prepare the men and women in uniform to deal with such situations in a very professional manner.
"It is the hope of the of the police administration that all protective gear, weapons and corresponding training will go a big way to reduce the attacks on police officers," he said.
The IGP has also been sharing with police officers across the region his transformational agenda aimed at making the police a world class one and to meet the challenges of the ever-changing world.
These agenda, he noted, is anchored on five thematic areas namely welfare of the police officer, revamping the Criminal Investigation Department (CID) and emboldening community policing.
Other areas are effective intelligence and professional standards which will all be driven by Information Communication Technology (ICT).