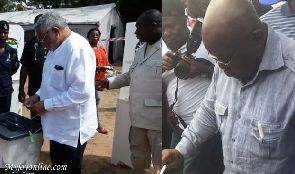 Leading political figures are taking turns to vote in the 2016 general elections expected to be a close-run between the main challenger New Patriotic Party (NPP) and the incumbent National Democratic Congress (NDC).
Voting in his constituency at Kyebi in the Eastern region, NPP Presidential candidate Nana Addo Dankwa Akufo-Addo told the media that "my prayer is of course victory for my party and myself".
This is his third attempt at the presidency after losing to NDC challenger Evans Atta Mills in 2008 and later in 2012 to incumbent NDC candidate John Mahama.
Swarmed by a thick crowd in a region which is the second stronghold of the opposition, Akufo Addo waved away to endure an anxious wait for the results.
The Electoral Commission is expected to announce the results in 72 hours.
At the Klottey Korle constituency in the Greater Accra region, former President Jerry John Rawlings cast his ballot.
Elect 2016 Rawlings votesElect 2016 Rawlings votes
He would not tell journalists whether he voted for his daughter Dr. Zanetor Rawlings who is contesting for the Klottey Korle seat on the ticket of the governing party.
The former President is also in a unique position of having his wife, Nana Konadu Agyeman Rawlings as the presidential candidate of the National Democratic Party, which the former First Lady founded after she broke away from the NDC in 2012.
The out-poken NDC leader said 'why should I tell you? My vote is a secret' he kept a bemused smile for the cameras.
In a white shirt with a yellow cloth thrown around his neck, Rawlings told Joy News' Latif Iddrisu, 'God will deliver' and said 'whoever deserves to win' will win.