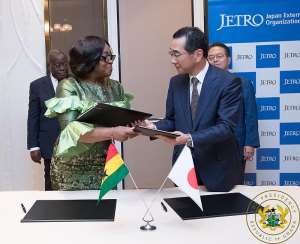 Ghanaians living in China and Japan will from 2020 no longer have to leave their country's of stay to renew their Ghanaian passports after the opening of the Passport Application Centre in Tokyo, Japan.
Speaking at the opening of the Passport Application Center in Tokyo, Japan, the Minister of Foreign Affairs, Shirley Ayorkor Botchway said the new centre "will serve as the hub for Asia."
"Our bases in China, Malaysia, South Korea, Australia and India will transmit their applications for printing in Tokyo."
In addition to the centre, there will also be a mobile biometric pack for registration in China "permanently stationed in Guangzhou, China for transmission of biometric applications to Tokyo for printing."
This will make life easier for a significant number of Ghanaians in China.
For example, there are said to be about 7,000 Ghanaian students living and schooling in China, making Ghana the African country with the highest student population in China.
Ghana is one of the highest beneficiaries of exchange programmes in China.
Possible reduction of passport costs
Shirley Ayorkor Botchwey also revealed that plans are in place for a possible reduction in the cost for acquiring passports despite prior indications .
"His Excellency the President has tasked us to review the cost of Ghanaian passports downwards. We are in the process of doing this…It needs to go to Parliament because the House approves fees and charges.
"We are processing it and then we will at some stage take it to Parliament and we are hoping that Parliament will approve the reduction of passport fees…because we know that acquiring a passport should not be a difficult process for you."
Currently acquiring a passport costs GHc50 and GHc100 for standard and premium services respectively.
Ghana is said to be one of the African Countries with the heavily subsidised costs for processing passports.
This may have informed the Minister's comments back in May 2019 when she said:
"This is a service that the government does not intend to make any profit on. However, it will be wrong for us to continue to subsidise the fees for acquiring a passport. We are in the middle of negotiations of some sort to see how much more we could charge to break even and never to make a profit. We are making losses so there is the need for Ghanaians to pay a more realistic price for the passport but no decision has been taken yet."