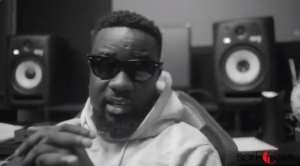 Rapper, Michael Owusu Addo, aka Sarkodie has shared a video urging Ghanaians to vote for 2018 BET nominee Kwesi Arthur.
The Sarkcess Music boss took to his twitter handle to urge his followers to vote for the "Grind Day" hitmaker to bring the BET African Act Award to Ghana.
Sarkodie's twitter post read, Guys it's still on … Click NOW let's bring this Home. #IPICKKWESIA18 @KwesiArthur_ Hit this Link NOW
Kwesi Arthur was recently nominated by the Black Entertainment Television (BET) in the Viewer's Choice Best New International Artiste category and most celebrities have rallied to show support.
Guys it's still on … Click NOW let's bring this Home … #IPICKKWESIA18 @KwesiArthur_ Hit this Link NOW >> https://www.bet.com/shows/bet-awards/2018/bet-international/nominees/vote-viewers-choice-best-new-international-act.html …