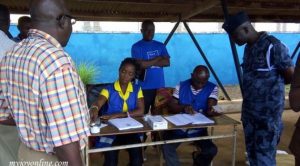 The Electoral Commission will later today mop up over 30,000 special voters in a second round of early voting after a chaotic first.
A drama of missing names of journalists, Electoral Commission officers and security officials ruffled what was supposed to be a smooth early voting exercise on December 1, 2016.
The special voters, numbering about 127,000 were given the privilege to vote six days before the actual voting day because they would be busy going about their official duties to ensure a smooth election for over 15 million others.
According to the Electoral Commission a little over 90,000 of the voters were able to cast their ballot with the remainingbecause they could not find their names on the register. Some cursed and swore to vacate their posts and vote on the election day if provision was not made for them to cast their ballot.
After a timely meeting with political parties, at an Inter Party Advisory Committee , (IPAC) the EC, for the first time, has decided to give a second chance, a second day, to the thousands of special voters who through no fault of theirs could not vote on December 1.
They will do that later today, hopefully under a less chaotic, and more organised environment.
EC boss Charlotte Osei says the first early election was a bitter lesson well learnt, hoping the second will be incident free.
It must be, for the sake of a peaceful country desirous of a peaceful and credible election on December 7.
Myjoyonline.com, your Election Headquarters will give up to the minute information on the second early voting exercise across the country and will give you a top of the game coverage of the NPP Agenda for change final rally at the Accra International Trade Fair Centre.
.
Story by Ghana|Myjoyonline.com