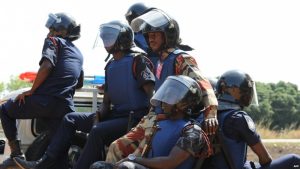 Security personnel in Bawku Thursday morning fired warning shots to disperse a large crowd of youth thronging the Bawku Community Centre to find out why the collation of Presidential and Parliamentary results was delaying.
The previously defiant crowd dispersed following the incident, which occurred at about 0845 hours at the Divisional Police Command near the collation centre.
They had previously defied the verbal warnings retreat.
The NPP agents are rejecting the addition of ballot boxes left unaccompanied in a bus that was used to cart materials to the polling stations and back to the centre.
This has resulted in tension in the area.
The Municipal Chief Executive of Bawku, Mr Bukari Issaku, who is the Chairman of the Municipal Security Committee, told the Ghana News Agency, (GNA) that there was no cause for alarm because the gunshots were only used to disperse the crowd.
He expressed worry at the slow nature of collation by the Officers and said the delay in declaring the results was creating suspicion and thereby attracting the youth to the Centre.
Mr. Issaku urged the officers collating the results to speed up the exercise and make the declaration to avoid unnecessary tension.