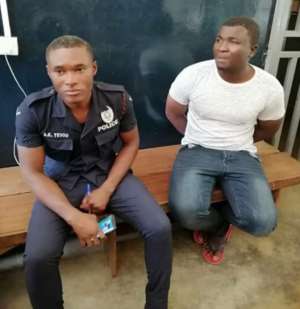 According to him, almost every policeman in Kasoa division knows him. He has given lands to most of them and sold to some. He said he shot someone some few months back because he had money in his car boot and they attacked him so he fired to save his life. His weapon was taken from him but he paid 1000 cedis and took it back.
He said his mother sold two plots of land to some foreigners early this year. Unfortunately, that same land belonged to the late Sgt. The Sgt wanted to develop the land and realized someone was already doing so and upon his investigations, he got to know it was the suspects' mom who sold it.
According to the suspect, this brought about a serious problem between his mom and the Sgt. He said he came in to make peace and promised the Sgt another piece of land but he refused and told him he's an ayigbe man and he should wait and see what would happen. According to the suspect two weeks after this his mom passed away and anytime the Sgt sees him he makes mockery of him.
On that fateful day, he said when he got to the checkpoint, he stopped and gave some money to some policemen there and as usual they gave him funs "father, father,father," . He said his nickname is father and even the commander calls him by that. While the policemen were given him this useless fun he saw the late sgt in his rearview mirror approaching his car .
Because he didn't want any mockery from him again he sped off and because he had parked on the shoulders of the road it splashed sand on them hence the chase.
He said he made two turns off the highway and still the Sgt was following. When he stopped the Sgt came down gave him three punches to the face and a slap. Awal also came from behind and gave him a slap. He said the civilians around know him so they even started to attack the police while his friend by name taller picked the pistol from the letterbox and fired Awal.
He said when the civilians heard the gunshot everyone started running including the Sgt. Taller passed the pistol to him and he chased the Sgt to the container where he had gone to take cover and fired him4 times there.
They sped off after the incident and abandoned the car. According to him it was a policeman who helped him to escape and hide in adenta. The same policeman asked him to put plaster on his face as disguise.