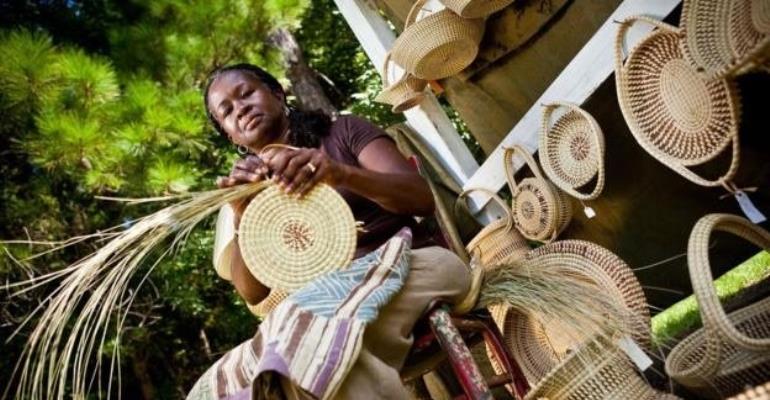 Spanish moss draped over St Helena Island, South Carolina, as Elting Buster Smalls and his children hummed down the earthen path in their 1960s station wagon. It was the summer of 1974, and the harvest from the Smalls' 20-acre farm – passed down since the late-1800s through their family of newly freed enslaved and runaway West Africans – was bountiful. Smalls and his children packed baskets of fresh honeydew, peanuts and sugar cane, and fish they'd caught in the river, to drop on the porches of local elders who were no longer able to work the land.
But today, nearly 50 years after Elting first taught his young daughter Victoria Smalls about the traditions integral to their identity, many Gullah Geechee can no longer work the land, as the land – and thereby the Gullah Geechee way of life – is being rattled by climate change.
Victoria, the 13th of Elting and his wife Laura's 14 children, grew up Gullah – a word she didn't actually learn until after college in the early 1990s. (Colloquially, Gullah distinguishes whether a Gullah Geechee individual lives north of the Savannah River, while those south of it are referred to as Geechee.) For Victoria, Gullah Geechee wasn't the mystic, isolated culture of inherited Africanisms and Southern landscapes that had become of interest to 21st-Century academics, tourists and hungry land developers.
"It was just our way of life," said Victoria, who later moved from St Helena to Charleston, South Carolina, to work on the International African American Museum , which, when it opens in 2020, will illuminate South Carolina's global historical significance and show the role enslaved Africans and free blacks had in shaping the US.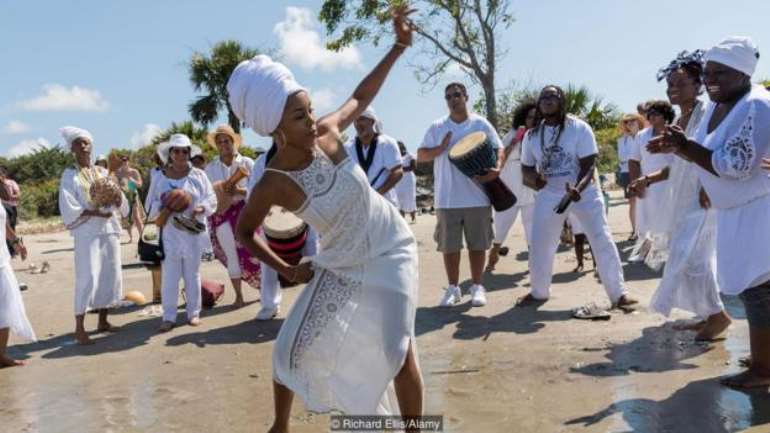 The Gullah Geechee and their culture are at risk as climate change threatens the coastal areas where they live (Credit: Richard Ellis/Alamy)
The Gullah Geechee are descendants of Central and West Africans who are believed to have been trafficked into what is known as the Low Country for their expertise in coastal rice farming and irrigation systems. After the American Civil War ended in 1865, Union General William T Sherman established Special Field Order 15 , which designated 400,000 acres of land along the coastline of the Southern US, from South Carolina to Florida, to newly freed black families in parcels of roughly 40 acres each. The isolated geography, which is spread out over 12,000 sq miles known as the Gullah Geechee Corridor, created insulated coastal and island communities, most of which were at least 90% black, with well-preserved cultural traditions.
Gullah Geechee religion incorporates Christianity with African belief systems, much of which was reflected in the lessons Victoria was taught as a child. Respect for nature, as well as elders and community, was sacred. African crafts were passed down for necessity, like cast nets and flat-bottomed boats known as 'bateau boats', which Victoria said are based off the West African dugout and redesigned to easily navigate shallow shores and waterways. The craft of sewing pieces of cloth into large, colourful patterns was combined with European quilting to become a creole art form that also allowed Gullah Geechee women to sit and socialise.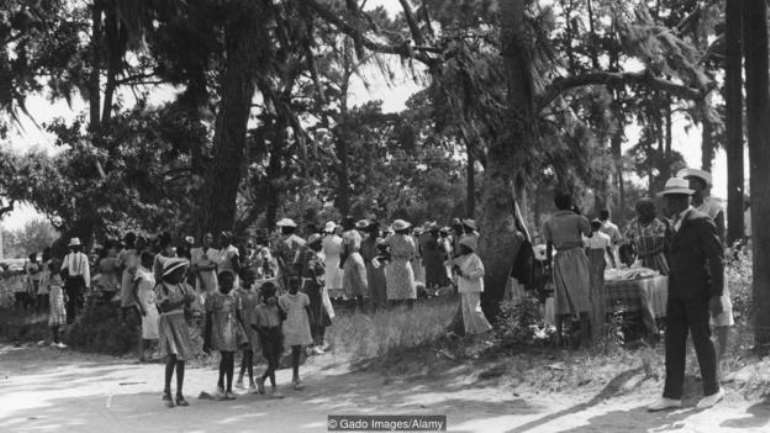 The Gullah Geechee are descendants of freed African slaves who inhabited coastal lands in the Southern US (Credit: Gado Images/Alamy)
"We didn't have a bridge on [St Helena] until 19 39 . The island was like an incubator for the culture, the language. You don't hear it now, but when I was growing up I had a very thick accent," Victoria said.
The Gullah Geechee Cultural Heritage Corridor , which strives to preserve the Gullah Geechee sites and stories, describes the Gullah Geechee language as a creole dialect that sprung from the linguistic influences of "European slave traders, slave owners and diverse African ethnic groups".
"Beaufort was only 7 miles away, and when I was four, five, up to 10 years old, people would laugh at me in Beaufort, even the blacks who were still Gullah Geechee people," Victoria said. "The nurturing you received on St Helena Island was so wonderful that the language and the way of life and working the land, farming, living off the water and living in tight-knit communities – it was so different than that just 7 miles inland on the mainland."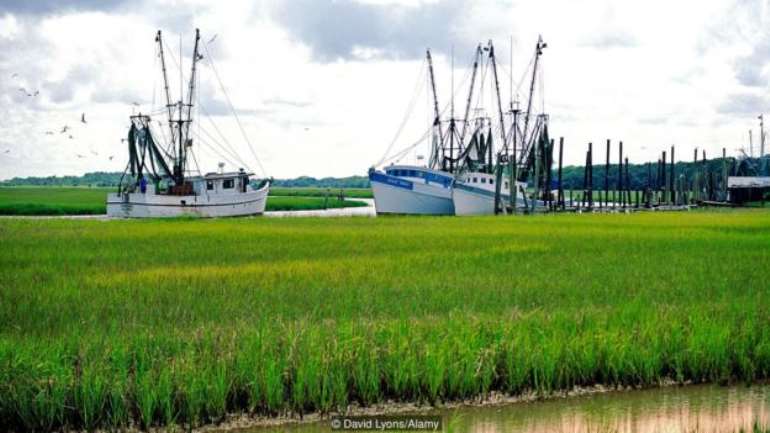 The Gullah Geechee Corridor's isolated geography created insulated coastal and island communities (Credit: David Lyons/Alamy)
Today, the pejorative perception of the Gullah Geechee being uneducated or backcountry has shifted to one in which the identity is celebrated, both by academics and those who grew up in the culture. Yet the Gullah Geechee ways are slipping away.
According to Dr Albert George II, director of conservation at the South Carolina Aquarium who was raised Gullah Geechee, individuals residing in the more isolated communities such as St Helena still subsist on their own agriculture, sourcing food from their farms and gardens and fish from the waterways rather than going to the grocery store. But due to environmental changes, such as rising sea levels and salt water erosion, connecting to the earth through food is becoming a complicated feat.
Shrimp, for example, is an integral ingredient in several Gullah Geechee dishes eaten throughout the South, such as the popular low country boil , which to the Gullah Geechee was considered a 'slop pot', a way to use all the leftovers from the fridge before they went bad. But "shellfish need a certain level of water quality and salinity. Oysters, clams – you see serious shifts in their ability to propagate in [the] environment," George said. "These people are experiencing changes to their land, a shift in habitat and [a] shift of what's in the water itself. Climate change is taking away hundreds of years of cuisine and culture."
He continued: "Some places in the Gullah Geechee Corridor are experiencing subsidence from climate change and land development factors like building upon sand-based soils or wetlands in the Charleston peninsula. In these areas, the land is actually sinking."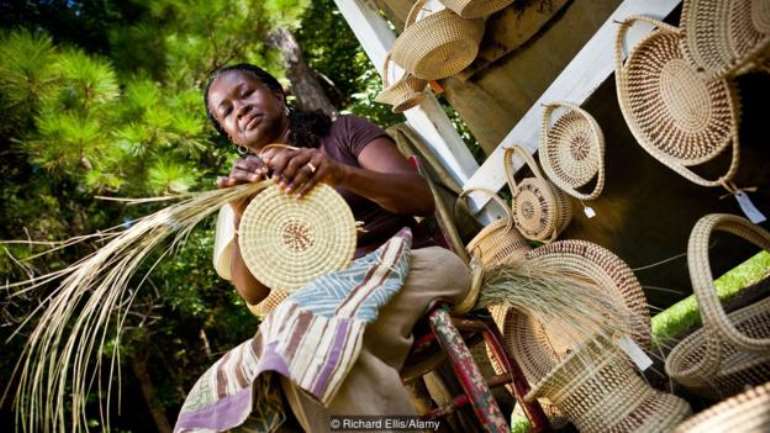 The Gullah Geechee have preserved African crafts, such as boat building and basket weaving, out of necessity (Credit: Richard Ellis/Alamy)
George, however, is determined that Gullah Geechee culture will not disappear. His father was a proud Gullah Geechee man who told him "unless there was rice with the meal, it wasn't a full dinner." As homage to the crop that is agriculturally obsolete in most Gullah Geechee farming communities, George founded RICE ( Resilience Initiative for Coastal Education ).
RICE strives to open a "two-way flow of communication," George said, between the Gullah Geechee and the local municipal, county, business and state government leaders. He hopes this will help establish a long-term plan to preserve the land and culture for the Gullah Geechee people in the wake of what is arguably one of the most harrowing issues the world faces today.
"Growing up, you didn't evacuate for a hurricane," Victoria said. "We let our horses roam free… and they would always come back. Somehow our community knew where the animals were from – what belonged to whom. I remember not even boarding up our windows."
Since Hurricane Matthew hit the island in October 2016, Victoria said flooding has become a major issue, and not just during hurricanes. During high tide and torrential rain, the land bridge floods and becomes impassable, and entire crops have been wiped out.
"All we have now is our name. We're the last Saltwater Geechee [island dwellers as opposed to the mainland's Freshwater Geechee] on Sapelo," said Maurice Bailey, a resident of Sapelo Island, Georgia's only remaining Gullah Geechee community, Hogg Hummock, and vice president of the Sapelo Island Cultural and Revitalization Society (SICARS).
"Our lifestyle is surviving… We grew up farming, hunting, preserving meats. Our lifestyle was rough, but we didn't know how rough 'til we got older," he said.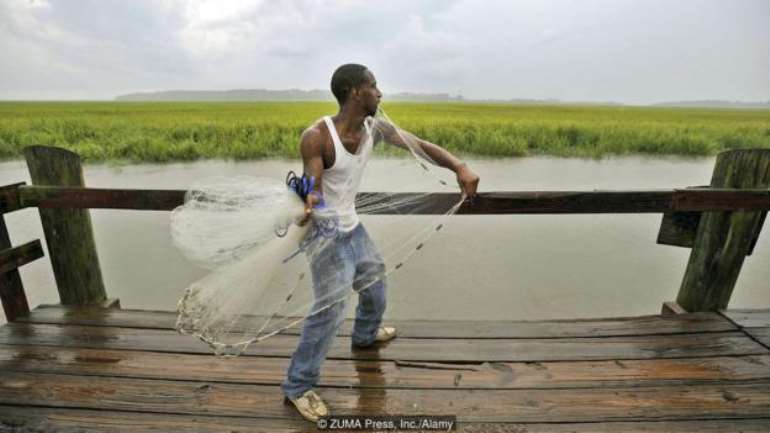 Shellfish is an integral part of Gullah Geechee cuisine, but rising sea levels and salt water erosion are causing the habitat to shift (Credit: ZUMA Press, Inc./Alamy)
Now, the Sapelo community cannot thrive on farming alone and many of its residents have left the island to either find work or love – as most who remain are related by blood. Bailey is spearheading an effort to plant a 10-acre community garden and honeybee hive so Sapelo residents will have a means of revenue growing and selling produce at markets on the mainland. So far, they've planted purple ribbon sugar cane as well as red peas, a much smaller version of red kidney beans, that were brought over as seeds from Africa and are used in a traditional Gullah Geechee beans-and-rice dish called Hoppin' John.
When Bailey was a boy, Sapelo Island had close to 300 people living on it. Today, he said there are only 29 Gullah Geechee left. Some traditions still live on, like eating Hoppin' John on New Year's, farming in the community gardens and gathering around at night by the camp fire – the dwindling community of elders and children seated together. But other cherished ways, like placing baskets of food on a neighbour's porch, are almost completely obsolete.
Almost.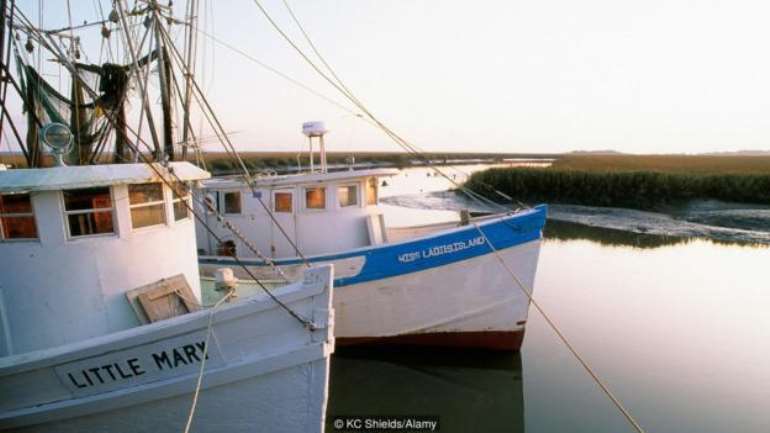 A changing environment has made it difficult for the Gullah Geechee to continue to rely solely on the land for sustenance (Credit: KC Shields/Alamy)
"My 16-year-old son died four years ago. While I was trying to heal, someone left a bag of beautiful squash, peppers – just a wonderful bounty on my steps and I didn't know who it was," Victoria said.
At the time, Victoria still lived on St Helena Island. The gift was a reminder of her past, of her Gullah Geechee roots, of her father, Elting, who died in 1992 but cast lessons of community and love upon his children the way he once cast his shrimp net into the water. With climate change, these nets may not sweep up the same bounty they once did, but individuals like Victoria, George and Bailey are not letting their heritage die out.
"At some point, based on predictions, we will have to move. Yes, there would be culture lost, but we're resilient people. I mean we were able to keep a lot of our Africanisms intact," Victoria said, the echo of her father's commanding voice sturdy in her tone. "We may be able to keep some of our culture in the palm of our hands – the way someone maybe carried some seeds in their palm as they were carried on a ship from West Africa."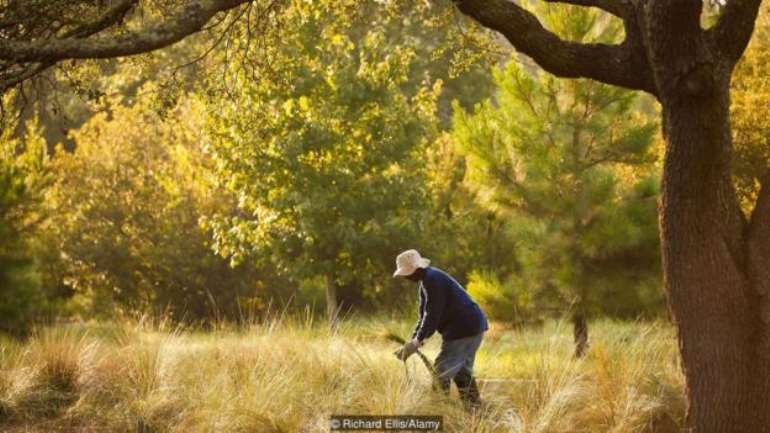 Victoria Smalls: "Yes, there would be culture lost, but we're resilient people" (Credit: Richard Ellis/Alamy)