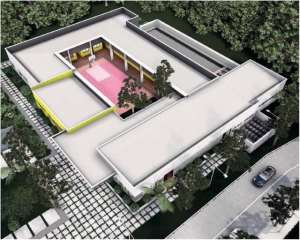 In a move unparalleled in Presec alumni history, CEO of Imperial Homes, Francis Biney, an old student, has single-handedly started the construction of a hostel for the senior high school.
Named Apeadu House, the 140-bed hostel will be in memory of the indefatigable former headmaster E. A Apeadu.
Designed by architect Selorm Kwame Dewotor, a member of the 2006 year group of the school, the project entails dormitories, chop box room, kitchenette and26-seater dining.
The facility also comes with a common room, entrance lobby drop-off, visitors or parents parking, visitors' garden, 28-seater study, toilet facilities among others.
Other ancillary rooms are tools storage power room, washing bay/laundry area drying line area, refuse area, courtyard.
"Kenneth Langone gave to New York University; John W. Kluge to Columbia University; Sanford I. Weill to Cornell University; Robert Woodruff to Emory University and Francis Biney gives to Presec; joining alumni who have given substantially to their schools," a statement from 'Odadee Communications' said.