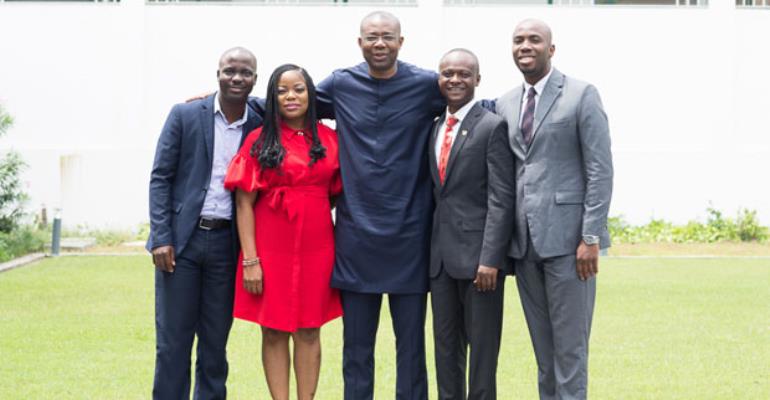 AFRICA INITIATIVE for Governance (AIG) has announced the recipients of the 2018/2019 round of the AIG Scholarships – the organisation's fully funded scholarship programme for young, outstanding West Africans with a passion for public service.
Commencing 2017 for a period of five years, five scholarships are made available every year by AIG to talented West Africans from all backgrounds who are passionate about the public sector, to pursue the Master of Public Policy at the Blavatnik School of Government, University of Oxford.
Upon graduation, AIG Scholars are expected to return to their home country and apply their learning experience as change agents in their country's public sector.
The 2018/2019 AIG Scholars are Adetola Adegbite (Nigeria), Blessing Ajimoti (Nigeria), Prosper Amuquandoh (Ghana), Louisa Chinedu-Okeke (Nigeria) and Tobechukwu Nneli (Nigeria).
"We are pleased to announce our second cohort of AIG Scholars," said Mr. Aigboje Aig-Imoukhuede, founder and chairman of AIG.
He stated: "Public service is one of the fundamental contributors to national development and it is critical to encourage talented, young individuals as regards the crucial role that they play in the process. With AIG's continuing support, these high-calibre women and men will acquire the skills and experience to drive best practice standards of public service and governance across Africa".
The AIG Scholarships are funded by AIG under a partnership entered into, in June 2016, between AIG and the Blavatnik School of Government at the University of Oxford, based on a shared vision of improving the world through good governance and public leadership. AIG Scholars are determined after a rigorous process which assesses key qualities such as outstanding academic ability, leadership and strong commitment to public service.
"The AIG Scholarship Awards selection process is a very competitive one, with thousands of talented individuals applying from across Nigeria and Ghana," said Ms. Chienye Ogwo, Chief Executive Officer of AIG.
She added: "We congratulate this year's awardees and remain committed to our mission to seek, attract, inspire and support future leaders of Africa's public sector."
"I feel a great sense of achievement, and very lucky to be given this opportunity," said Mr. Prosper Amuquandoh, a first-class graduate of Physics and Computer Science from the University of Ghana, and one of the 2018 AIG Scholars.
"The multidisciplinary nature of the programme will empower me with an advanced level of competence to achieve my goals of being an effective public policy practitioner," he added.
AIG also announced the opening of the application window for the 2019/2020 AIG Scholarships. The application window will end on Friday, September 14, 2018.