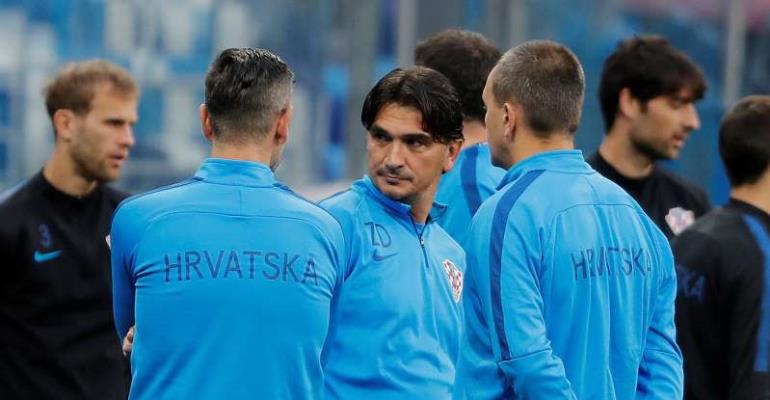 Ognjen Vukojevic has been sacked by the Croatian Football Federation for publishing a politically-charged video on social media following the penalty shootout win over Russia, just days before the World Cup semi-final against England.
Former Croatia international Vukojevic, who had been working as a coaching assistant, recorded a video with defender Domagoj Vida after the game in which both men dedicated the Croatia's victory to Ukraine – a clear reference to the country's long-running political conflict with Russia that centres on the disputed territory of Crimea.
In a video posted to Facebook and subsequently uploaded to YouTube, Vida shouted "Glory to Ukraine!", a chant widely used during the 2014 revolution that drove Ukraine's pro-Moscow president Viktor Yanukovych from power and since adopted by Ukrainian ultra-nationalists, while Vukojevic added: "This victory is for Dynamo [Kiev] and Ukraine."
Croatia coach Zlatko Dalic during training. Their comments sparked a backlash in Russia and Vida was warned by Fifa, but the Croatian Football Federation has now confirmed that it has severed ties with Vukojevic over the matter.
"The Croatian Football Federation hereby notifies the public that Ognjen Vukojevic has been relieved of his duties as an associate of the coaching staff of the Croatian national team by decision of the management of the Croatian FA, and that he will no longer be a member of the Croatian delegation at the FIFA World Cup in Russia," the organisation said in a statement.
"The Croatian Football Federation (HNS) has decided to revoke Vukojevic's team accreditation at the FIFA World Cup and to relieve him of his duties as an observer for the Croatian national team.
"HNS hereby apologizes to the Russian public for the actions of a member of the Croatian delegation. Ognjen Vukojevic and Domagoj Vida likewise apologize for their statements, which were in no way intended to have political connotations, yet which unfortunately left room for such interpretations."
Last year Vukojevic was appointed as a scout by Dynamo Kiev, the club where Vida spent five years before joining Turkish giants Besiktas in January. After receiving his formal warning from Fifa, Vida was quoted by Russian newspaper Sport Express as saying: "There's no politics in football. It's a joke for my friends from Dynamo Kiev. I love Russians and I love Ukrainians."
Earlier in the World Cup, Xherdan Shaqiri and Granit Xhaka were fined £7,600 each for celebrating Switzerland's 2-1 win over Serbia by making an eagle shape with their hands – a gesture associated with Albanian nationalists.