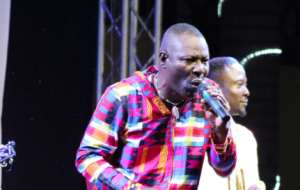 ModernGhana Entertainment has chanced upon an audio of Adane Best singing his heart out to his lover who appears to have separated from him for some time now.
In a new song titled 'Kaafo Don' meaning 'Stop Crying', Adane Best sings of how he still has undying love for his lover, and why she should return to him.
With this new song with a beautiful rhythm, it is obvisous that the legendary highlife musician, Adane Best, has bounced back into the music scene with a big bang.
Adane Best, noted for hit songs including 'Jata Bi', 'Mama Mia', 'Maafio', and 'Skabalanjo', featuring music tri Praye, is back with a fresh one for 2018.
Take a listen to the song 'Kaafo Don' here
"Who would serve as a messenger to inform my lover that I still love her?"
"Who would act as the messenger to tell her not to cry anymore because the love I have for her is undying?"
"Someone should tell my lover to stop crying because I am coming back to her again," Adane Best is heard singing in 'Kaafo Don'.
Adane Best remains one of Ghana's revered highlife musicians.
He is an award-winning musician who broke into the music scene with his debut 'Ayittey'.
The veteran singer is also noted for his sweet voice, and the deep thoughts he communicates in his music.
Other songs of Adane Best are 'Zaamunyamunya', 'Dromo', 'ShitraloGbooomra', just to mention a few