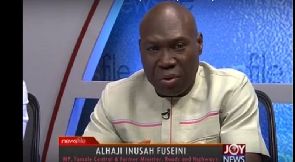 President Nana Akufo-Addo orally agreed to grant his predecessor his wish to have his official residence as part of his retirement benefit.
That is the claim by the Tamale Central Member of Parliament Inusah Fuseini in a discussion on Joy FM's news analysis programme Newsfile, Saturday.
According to him, the two presidents in a discussion before a renowned person, [believed to be the Asantehene, Otumfuo Osei Tutu II] sealed the agreement, at least orally, to have the No 3 Prestige Link residence bequeathed to ex-president John Mahama.
"They met before a renowned person, the president elect asked about where he wanted to stay and Mahama said he wanted to stay where he was living already and Nana Akufo-Addo agreed orally," he narrated.
Inusah Fuseini said it was based on this oral agreement that the December 19, 2016 letter from the former Chief of Staff was written.
That letter in part, referenced a discussion, not between the two presidents but between the chairpersons of the two transition teams- Julius Debrah and Yaw Osafo Maafo- and requested that Mahama be given his official residence as his retirement benefit.
That letter provoked serious anger amongst the general public with critics accusing the president of breaking the law.
Section 10 (1) of the Presidential Transition Act stated that the president shall vacate his official designated residence before he hands over to another president.
Instead of vacating the property he put in a request to the incoming administration to have him stay in the house.
Yaw Osafo Maafo who was at the time co chair of the transition team dismissed assertion that the incoming administration had agreed to bequeath the official residence to president Mahama.
He stated it was only a request made by president Mahama, a request which was referred to the legal advisors in the NPP transition team and at no time was any agreement made.
He hinted the NPP lawyers had given the advice and will soon be communicated.
Just before that advice will be made public, the ex-president wrote to president Nana Akufo-Addo withdrawing his request to be given the house.
Inusah Fuseini said president Mahama made the request only because there had been a convention and that request was accepted, at least orally.
But Information Minister designate Mustapha Hamid said even if there was any such oral agreement between the two presidents it would have been illegal.
He quoted the Constitution and the Presidential Transition Act, all of which made provision for how ex-presidents must be housed, insisting for anybody to have met to seal a discussion which would allow president Mahama to have his official residence would have been in gross violation of the law.
He reiterated the point that the December 19 letter authored by Julius Debrah was only a request which was forwarded to Gloria Akuffo, for legal advice.
"There was no constitutional or lawful basis to grant this request," Hamid read Gloria Akuffo's legal advice given on January 5, 2017 as saying.
He said given how ex-president John Mahama treated his predecessor, John Kufuor, he was even surprised that he would make that request in the first place.
According to him, for eight years ex-president Kufuor has been living without his entitlement, a house which Mr Mahama ought to provided him, yet he would want to retire in a home that is meant to house the existing vice president.
"Those who call for equity must come with clean hands," he stated, adding, morality and ethics ought to be important component of governance structure.