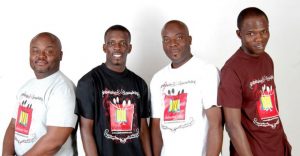 Ghana's leading acappella group, Alabaster Box, will be on the same stage with several of the gospel music greats at this year's edition of the Ghana Acapella Festival (GH ACAFEST 2017), which will take place on August 26 at the CCB Auditorium of the Kwame Nkrumah University of Science and Technology (KNUST) in Kumasi.
The event, which is its second edition, will also feature groups like Akoo Show Choir, Pipers, Millerites, Vocals, Soul to Soul Praizapella, All Female Acappella Group, Soul Touch, among others.
This year's edition of the festival is under the theme: 'making music with our voices'.
According to the organisers, Creative Empire, "The theme emphasizes the power of the voice in making good music even without supporting made musical instruments and that is what the event is all about."
The organisers believe Ghana has enough acappella talents who can put the country on the centre stage of the global acappella industry.
The maiden edition of GH ACAFEST was held last year in Accra, and it featured groups like the Alabaster Box, New Era Acappella, Psalms, Pipers, Millerites, Precious Memories, Manifest International, Soul Medics and Psalters.
The manager of the Creative Empire, Ben Opoku, stated that they are committed to working assiduously with both local and international partners to promote acappella music in Ghana.
He believes that acappella music can take its rightful place in Ghana and across the world through "education, recognition and the creation of performance opportunities for the upcoming generation".
Ben Opoku, however, urged all Ghanaians, particularly residents of Kumasi, a city known for producing some of the finest acappella groups, to come along with their families and loved ones to enjoy the feast of pure voices.