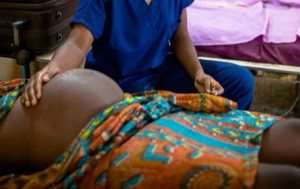 A young pastor who lost his wife and unborn baby at the Suntreso Government Hospital in the Ashanti Region has threatened to sue the hospital for possible negligence.
He is blaming the death of his 30-year old wife, Angela Afriyie Agyemang and his baby on negligence on the part of health workers who were on duty when she went into labour.
Pastor Solomon Lamour Latif of the House Faith Ministry in Kumasi who was expecting his first child after one and half years of marriage narrated how health workers on duty at the Suntreso Government Hospital left his pregnant wife who was in deep pain to her fate to die.
"We realized the pain was getting worse. I went to them again and said, madam, I do not know what kind of cleaning you are doing…look at the pain that my wife is going through, but one woman told me that the one they finished treating before my wife was even more severe than my case so I should stop what I am doing. I should even leave the place. I went straight to the doctor and said; doctor, you told me this case is an emergency…Long after that, he entered the theater and immediately he entered the theater, they took my wife inside and long after she was taken inside , they came and called me and I was marched into the theater only to realize that my wife is gone."
He alleged that before his wife's death the doctor on duty whose name was only given as Dr. Sarpong, demanded a GHC 500 motivation fee for the cesarean session.
"He asked for motivation fee. I asked how much they take and he told me they take GHC 500. Initially I was bargaining with him, but I realized there was no sense in bargaining with him. I only want the life of my wife and that of the baby so he should go ahead and do it when he is done everything will be given to him and the truth of the matter is he did not ask for the money before doing the CS. He told me that he will take the money when he is done. I have come to understand that someone was taken in instead of my wife, meaning there was some overtaking somewhere."
Pastor Lamour Latif, who says he is disappointed in the country's health system told Citi News he will take on the hospital over the death of his wife and baby.
"For now, I must say the truth that I am not myself to be doing these things, but after we are done with everything, I will make sure I take legal action against them."
Management of the hospital have told Citi News the matter has been referred to the Ashanti Regional Health directorate.
Couple demand justice
A similar incident occurred after a couple lost their twin b abies at the Tema General Hospital in 2010, as a result of alleged medical negligence.
According to the couple, the hospital had failed to provide convincing answers on what caused the death of the babies more than seven years after the unfortunate incident.
Father of the babies, Amankwah Addo, had threatened to sue the Hospital and the Ministry of Health if their concerns were not addressed.
"It is a case of medical negligence that resulted in the death of the twin babies. The Minister of Health told us they were investigating. They had us get our lawyers to write to them to find the state of the investigation, but till date, seven years on, we've heard nothing."