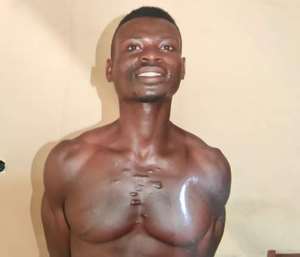 A 27-year-old man, Kwame Tawiah, considered to be one of Ghana's most notorious armed robbers, has been arrested during an identification parade. The suspect, who claims to be a farmer, resides at Fiakoma near Jacobu in the Amansie Central District of the Ashanti Region. He has been accused of robbing three people at gunpoint, including a Chinese national, of cash, gold dust and mobile phones on July 27, 2018.
Allegedly, he is among an army of four robbers who attacked Wei Shengrong, the Chinese, and his two workers namely Nurudeen Mohammed and Kwame Amankwa between Apotonua and Fiakoma.
A circuit court in Bekwai yesterday remanded the accused person in prison custody following his arrest on August 1, 2018, by law enforcement officers. He is expected back in court on August 21, 2018.
Police prosecutor, Detective Inspector Stephen Ofori, informed the court presided over by Fredrick Nawura that the complainants are residents of Akorkerri, whilst the accused person claims to be a farmer at Fiakoma.
On July 27, 2018, at about 8:00am, the accused person went to lay ambush in a bush along the road between Apotonua and Fiakoma, both in the Amansie Central District, waiting for people to rob at gunpoint.
The prosecutor said the accused and his gang members emerged from the bush with a pistol and pump-action guns when the victims, Wei Shengrong, Nurudeen Mohammed and Kwame Amankwa, who were onboard an Opel Astra car with registration number GX 488 -16 got to where they were hiding.
Inspector Ofori narrated that the accused person and his accomplices managed to rob the Chinese of GH¢1,500 cash, two mobile phones worth GH¢500 and quantity of gold dust valued GH¢5,500 after dispossessing Nurudeen and Kwame Amankwa of their two Infinix Note 3 mobile phones worth GH¢1,600 and an amount of GH¢250.
He stated that the suspect and his accomplices pushed Nurudeen Mohammed, who was in charge of the steering wheel, out of the car, and took over the vehicle before driving away with Wei Shengrong and Kwame Amankwa onboard.
The prosecutor disclosed that the gangsters subjected the duo to severe beatings and finally abandoned them and the car, upon hearing that the police were chasing them.
A report was made to the police leading to the arrest of Kwame Tawiah on August 1, 2018; he added that the accused was identified during an identification parade carried out at the Jacobu District Police Headquarters on August 3, 2018.