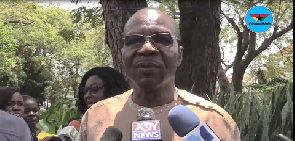 President of the Ghana Journalists Association (GJA), Affail Monney has vowed to pursue the case of JoyNews' journalist Latif Iddrisu after he was assaulted by some police officers while doing his work.
Latif Iddrisu was brutalized at the police Criminal Investigation Department Headquarters when he went there to report on the arrest of the Deputy General Secretary of the National Democratic Congress, Koku Anyidoho.
Speaking to GhanaWeb, Mr. Monney condemned the attack on the journalist and promised to ensure justice is served by pursuing the case to the end.
Describing the assault on Latif as an attack on our democracy, Mr. Monney said it is uncalled for, and about time, journalists are treated right in this country.
He indicated that the GJA will no longer be reluctant but will take strict measures to resolve issues that affect journalists in their line of duty.
"This will be a different ball game altogether. Because our action or series of actions we are going to take are predicated on the principle that once you attack one single journalist, then you attack all of us and once you attack all of us then you attack our democracy and once you attack our democracy then you attack the very soul of this nation".
"So as we speak, the soul of this nation is bleeding profusely over the attack against a single journalist and the only way to staunch the blood flow is to unfold our next line of action. We are not lying low; we will not sit down unconcerned for this to happen. In the past, we were accused of just issuing statements and going to sleep. This will not happen", he said.
For this to be effective, Mr. Monney said the GJA is putting together a team of lawyers who will rally to the defence of any assaulted journalist in the country by taking the action to court for justice to be served beginning with Latif after his meeting with the IGP on Wednesday.
"We have other options of putting together a team of lawyers who will rally to our defence in such instances. We shall also unfold that action, we have plan A up to plan Z and depending on what the IGP will tell us, we shall activate the appropriate plan in response to what has happened to Latif".
Background
Some police officers subjected Latif Iddrisu to severe beatings at the Criminal Investigations Department of the Ghana Police Service.
His crime was simply that he asked one of the police officers a question on the technical name for one of the crowd control vehicles stationed at the police headquarters yesterday.
Latif says he got to the CID Headquarters at about 6:50 pm where a Deputy General Secretary of the opposition National Democratic Congress (NDC), Koku Anyidoho, was being interrogated for making inflammatory comments.
Mr Anydoho had made comments the police contend are treasonous and arrested him Tuesday for interrogation.
Medical report
After four X-Ray examinations and a CT scan, doctors have now concluded that Joy News' Latif Iddrisu has a fractured skull.
Latif explains he has been referred to a consultant neurosurgeon to determine the possibility of a surgery.
The cantonments Police and the Intelligence and Professional Standards Unit (PIPS) are still conducting investigations into the circumstances surrounding the attack on the journalist.