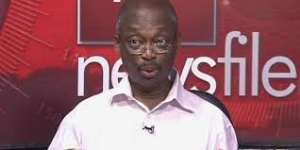 The Editor- in – Chief of the New Crusading Guide newspaper, Abdul Malik Kweku Baako Jnr. has sent a word of caution to the Minister for Education, Matthew Opoku Prempeh to be very measured in his utterances whenever he gets the opportunity to communicate to the public.
Speaking this morning on 'Kokrokoo' radio discussion programme on Peace FM, Mr. Baako said, "I think he has some difficulty with his communication sometimes and his emotional reaction and all that. When the agitation is ongoing especially, how you communicate is also very important because you need to get the public behind you."
This follows a claim by the Minister a few days ago that suggested he has credible information to the effect that the opposition National Democratic Congress (NDC) is behind the ongoing nationwide strike declared by three teacher unions which commenced on December 9, 2019, over the failure of government to pay the legacy arrears of their members.
The three aggrieved teacher unions namely, Ghana National Association of Teacher (GNAT), National Association of Graduate Teachers (NAGRAT) and the Coalition of Concerned Teachers (CCT) maintained that the arrears span the period 2012 through to 2016.