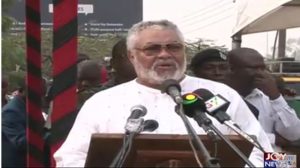 Ex-President John Rawlings has blamed what he says is the humiliating defeat of the National Democratic Congress on corrupt, uncouth, and uncultured government officials.
According to him the incumbent government lost the elections way before December 7 but the arrogance of power blinded the Mahama led administration of seeing the writing on the wall.
In his address on the occasion of the 35th Anniversary of the 31st December revolution, the ex-president minced no words in chiding the outgoing administration of deviating from the core principles that brought the NDC into being.
The 31st December 1981 Revolution was the return of Flt Lt Jerry John Rawlings to military power after a successful June 4 1979 uprising which led to the overthrow of the Supreme Military Council.
Barely two years after handing over power to the Hilla Limann led democratic regime, Flt Lt Rawlings returned with another successful coup in 1981. He stayed on for 11 years as a military leader under the Armed Forces Revolutionary Council and transitioned into a democratic regime by winning two elections in 1992 and 1996.
His government however lost power to the NPP in 2000 but regained power in 2008 after a close fought election which brought the late President John Mills into the lime light.
After another eight years in power, the NDC has lost yet another election, this time in a humiliating defeat to the NPP led by Nana Akufo-Addo.
Revenge?
There was an uneasy calm between Mr Rawlings and the Mahama led administration but after a humiliating defeat, the man popular for his usual abrasive political pronouncements returned to his elements and chose a platform so popular, a platform which became a vehicle for his political leadership in Ghana to get back at his
detractors within the Mahama led administration.
He fought back in critical fashion, sparing no political jab, and describing elements within the Mahama led administration as "uncouth" "corrupt" "uncultured" loose talkers whose conduct brought defeat to the NDC.