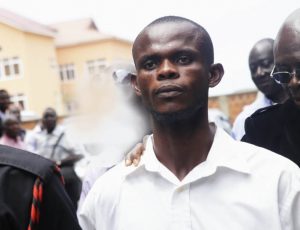 The man who planned, albeit unsuccessfully, to kill President John Mahama at Church has admitted he was not mentally fit when he made that daring attempt.
Charles Antwi who is 37 years had gone to the president's church, Ringway Gospel Assemblies of God Church, Osu on Sunday, July 26, 2015 with a locally manufactured pistol and two rounds of ammunition. His mission was aborted after eyewitnesses found him fidgeting while seated.
The president coincidentally was not present at the time Charles went to the church premises. He was prosecuted but escaped a 10-year jail term after a High Court judge quashed his sentence handed to him by a Circuit Court judge on July 28, 2015.
He has been kept at the Bureau of National Investigations since August 2015 after the High Court was convinced that he had some mental condition. The court ordered that he was kept in BNI custody to undergo treatment at the Accra Psychiatric Hospital.
Charles Antwi was however released exactly at 13:30 Friday, December 30, 2016 from the BNI custody, TV3's Godfred Tanam reports. Earlier, his counsel Francis Xavier-Sosu had confirmed to 3news.com that his client would be released today.
Charles Antwi told TV3 what happened last year was a mistake. "He said he has now realised that he had a mental problem that's why it all happened," Godfred reported him as saying.
He hoped the unfortunate incident does not happen again in his life. Charles noted that he does not pose any threat to his people and he hoped they will accept him.