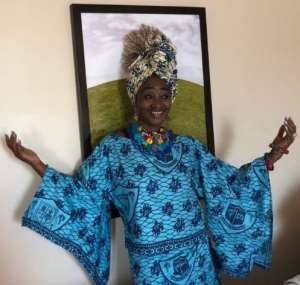 Nana Frema Busia
UNIVERSAL MESSAGE: INSTITUTE RIGHTEOUS RULE IN ALL THE WORLD; FOR IT ISTHE BEGINNING OF SORROWS
For the WORD of God is sharper than any two-edged sword. It Pierces the Heart and Soul.
God is ushering in his reign. There is no country that does not have its political and spiritual history in the bible. No not one. There is nothing new under the sun. What has already been, is what shall be.
PROPHETIC INHERITANCE FOR ' POLITICAL' EVANGELISM
PART A: UNIVERSAL MESSAGE: "A RIGHTEOUS RULE" ALL WORLD GOVERNMENTS ESTABLISH RIGHTEOUS RULE.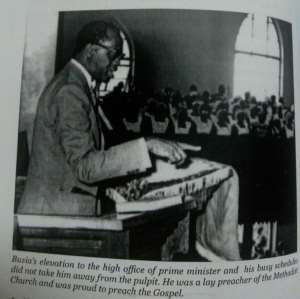 Picture credit – 'K.A. Busia Symbol of democracy' -Anane Agyei
God is extending his righteous right hand and saying, "COME UNTO ME… REPENT YE THEREFORE OF ALL SINS AND LET TRUE WORSHIP AND LOVE OF GOD AND OF EACH OTHER BE THE NEW DISPENSATION IN TRUTH AND SINCERITY. THEN SHALL YOUR LAND FLOW WITH LIVING WATERS. AS I THE LORD HAVE PURPOSED IN MY HEART TO DO AND I SHALL DO IT".
"I AM GOD. THERE IS NO OTHER BUT ME. I SHALL BE YOUR GOD AND YOU SHALL BE MY PEOPLE, EVEN THOUGH YOU HAVE REJECTED ME AND GONE YOUR OWN WAY. IF YOU RETURN TO ME AND WALK IN MY WAYS, I SHALL BE TO YOU LIKE STREAMS OF LIVING WATER. I SHALL PLANT YOU AND NO ONE SHALL UPROOT YOU. YOU SHALL BE THE HEAD AND NOT THE TAIL. YOUR VENTS SHALL BE FRUITFUL. I AM THE END OF DAYS. THERE IS NONE LIKE ME. AS I PURPOSE TO DO, SO SHALL IT BE".
"SIGNED SEALED AND DELIVERED IN THE BLOOD OF CHRIST, MY ONLY BEGOTTEN SON, THE SAVIOUR OF MANKIND. I AM THE GREAT I AM. THE I AM THAT I AM. I HAVE SPOKEN. THIS IS MY WORD. IT IS HOLY AND PURE AND WITHOUT BLEMISH. I AM THE LORD WHO NEVER FAILS. EVEN I AM YOUR FATHER IN HEAVENWHOSE NAME IS HALLOWED IN THE CIRCLE OF THE EARTH. MY PEACE I GIVE YOU NOT AS THE WORLD GIVES. TURN FROM YOUR WICKED WAYS MY CHILDREN AND I WILL HEAL YOUR LAND FOR THIS IS THE DAY THE LORD HAS MADE. BE GLAD AND REJOICE FOR THIS IS MY WILL FOR YOU TO LIVE RIGHTEOUSLY AND WITHOUT SIN"
"FOR IN THE LAST DAYS, I WILL POUR OUT MY SPIRIT UPON ALL FLESH. YOUNG MEN SHALL DREAM DREAMS… AND THE CHOSEN FEW SHALL PROPHESY. AS I PURPOSE TO DO SO SHALL IT BE FOR MY NAMES SAKE. TURN FROM YOUR WICKED WAYS FOR THE PEOPLE CALLED BY MY NAME SHALL OBEY MY VOICE. I WILL LEAD THEM INTO MY PEACE. YES MY PEACE I GIVE UNTO YOU"
"THIS IS REVELATORY KNOWLEDGE. THESE WORDS ARE HOLY. SIGNED AND SEALED IN THE CLEANSING BLOOD OF CHRIST IN WHOM AND WITH WHOM ALL THINGS ARE MADE. BE JOYFUL AND DO NOT SIN. I AM DOING A NEW THING. SHALL YOU NOT SEE IT?"
ANCHOR SCRIPTURE: ISAIAH 45: 18 -19 for thus says the Lord, who created the heavens, who is God who formed the earth and made it, who has established it, who did not make it in vain, Who formed it to be inhabited: "I am the Lord and there is no other. I have not spoken in secret, in a dark place of the earth; I did not say to the seed of Jacob,' Seek me in vain' I, the Lord, speak righteousness. I declare things that are Right"
PART B: MESSAGE TO GHANA FROM A PLAIN OF HIGHER SPIRITUAL PERCEPTION
PROPHECY TO GHANA AS A PROTOTYPE OF BIBLICAL ISRAEL
FOR THUS SAYETH THE LORD: Mr. President, "ROOT UP AND SHAKE OUT" INSTITUTE RIGHTEOUS RULE OR YOU DIE" [Spiritual Death] THE LIGHT THAT WAS IN FRONT OF YOU HAS MOVED BEHIND YOU AND BECOME A DARK SHADOW.
THE SPIRIT OF GOD IS MOVING AND SHOWERS OF BLESSING ARE FALLING. LET THERE BE LIGHT. LET PEACE BE STILL. UPROOT CORRUPTION IN HIGH PLACES FOR IT IS OFFENSIVE TO GOD [ SHAKABAMAYA, SHOKO SOTO MO]
HE WILL TURN HIS FACE AWAY AND CALAMITY WILL STRIKE. AVERT HARDSHIP. DO WHAT IS RIGHTEOUS IN GOD'S SIGHT. GOD IS DOING A NEW THING. THIS IS THE BEGINNING OF TROUBLES. ALL WORLD GOVERNMENTS ESTABLISH RIGHTEOUS RULE.
GOD'S EYE IS ON YOU GHANA, FOR YOU ARE A PROTOTYPE OF BIBLICAL ISRAEL INVOLVED IN PAGAN WORSHIP LIFTING UP A SATANIC EMBLEM OF "THE BLACK STAR" TO DECLARE BLASPHEMY TO THE WHOLE WORLD. YOU HARBOR TREASON IN YOUR CONSTITUTION WHILE PRETENDING TO BE A CHRISTIAN NATION AT THE CENTER OF GOD'S CREATED EARTH. WHAT SEPULCHER HAVE YOU SEWN SAYETH THE LORD. THE ANCIENT OF DAYS SPEAKS TO THE NATIONS. YOU HAVE USED HIS NAME IN VAIN. LET GHANA PRAY AND NOT PRAY AMISS TO CONSUME WEALTH ON YOURSELVES OR YOUR HEARTS BE TROUBLED. LET THERE BE LIGHT AND PEACE. GHANA IS A PRETEXT COUNTRY. THERE IS NO REAL PEACE. THERE IS SELF LOVE AND BAD RULERSHIP BECAUSE THE PEOPLE HAVE TURNED TO PAGAN IDOLS. THE HEARTS OF THE PEOPLE ARE IMPURE. GOD IS NOT YOUR PILLAR. YOU DONT HAVE A FOUNDATION. THE CORE IS ROTTEN. PUTREFIED FLIES HAVE ATTACKED THE PERFUMERS OINTMENT"
Corruption is a daily meal at which Christ is re crucified and honest folk with him as though he never resurrected. Money is the God that is worshiped in Ghana. Ghana is a pagan nation that devours itself with mind-numbing brutality. Anyone who has integrity and stands up for truth is a target for arrows.
Mr. PRESIDENT IS NOT PICKING THE RIGHT ONES OF THE NEXT GENERATION FOR STRATEGIC GOVERNANCE. WHO SHALL WE SEND AND WHO WILL GO?
PROPHECY TO GHANA PARLIAMENT
GHANA PARLIAMENT DOES NOT PLEASE GOD. THERE IS NO TRUTH IN PARLIAMENT. GHANA PARLIAMENT NEEDS AN OVERHAUL IN THE COMING ELECTION.
HOW CAN YOU GO AND DISTRIBUTE MONEY, COMPROMISE CONSCIENCE TO BE ELECTED, AND PRETEND PIETY? AND HOW CAN THE PEOPLE COMPLAIN ABOUT STEALING IN GOVERNANCE WHEN THEY THEMSELVES ARE THIEVES WHO PARTICIPATE IN THE ROBBERY OF THEIR OWN SOULS. WHY THIS MISERY? WHY ARE YOU WORSHIPPING MONEY? MAMON WHEN GOD IS INSTITUTIONALIZING RIGHTEOUS RULE.
"YOU ARE ACQUIRING AMAZING WEALTH THAT WILL BECOME A RUBBISH HEAP. AVERT CALAMITY. LIVE RIGHTEOUSLY OR FACE YOUR HELL THAT YOU HAVE CHOSEN. THIS IS THE SIMPLE TRUTH. GOVERNANCE IS A CAMOUFLAGE, MASQUERADERS ARE RULING AND AMASSING WEALTH THAT WILL BECOME A RUBBISH HEAP".
PROPHECY TO ALL GHANAIANS
"OPEN UP THE DUSTBINS AND THRASH THE NEGATIVE STRINGS THAT ARE POLLUTING YOUR HEARTS, FOR, THE LOVE OF MONEY IS THE ROOT OF ALL EVIL. CLEANSE YOUR HEARTS AND MINDS AND LET THE WORD OF GOD HEAL YOUR LAND. BE WISE. DO NOT BE FOOLISH. YOU ARE A PEOPLE AFTER GOD'S OWN HEART BUT YOU ARE HARD OF HEART.
YOU LOVE THE THINGS OF THIS WORLD THAT IS PASSING MORE THAN YOUR OWN SOULS, THAT IS WHY THERE IS A CURSE ON THE LAND IN THE PERSON OF ………………….
MEND YOUR WAYS, GIVE JUSTICE TO THE POOR, HEAL THE SICK, COMFORT THE POOR AND NEEDY, BE MERCIFUL TO THE YOUNG AND THE AGED. THESE ARE PRINCIPLES OF GOVERNANCE
THOU SHALL NOT STEAL IS A CARDINAL RULE. BUT THIS IS A DAILY MEAL IN ALL SECTORS OF THE ECONOMY.
GOD IS SUPERIMPOSING AN ORDER FROM ABOVE. APPORTIONING KINDNESS AND MERCY AND REALIGNMENT OF DIVINE PRINCIPLES.
DO NOT SIN. PERIOD. LET CHRIST BE YOUR HELP AND GUIDE. LET THE LEADINGS OF THE HOLY SPIRIT REVEAL YOUR NEXT STEPS. BE STILL AND WORSHIP AT THE ALTER OF TRUTH, LEST YOUR THIRST OF PURITY QUENCH YOU.
STUBBORNNESS OF HEART SHALL RUIN YOU AND ALL STIFF NECKED DELINQUENTS, WHOLE NATIONS THAT PROSTRATE THEMSELVES IN UNHOLY DISGUISE AS THOUGH GOD CAN BE DECEIVED. HA HA HA
BE SOBER. BE VIGILANT. THE LORD YOUR GOD SEES EVERYONE AND EVERYTHING. NO SECRET IS HID FROM HIM. THIS IS NOT A JOKE.
MANY PRAYERS AND TONGUES AND ALL NIGHT AND NOISE ["SHOKOBOYOMOYO"] DISTURBING YOURSELVES IS NOT REACHING HEAVEN. BECAUSE A CLOUD OF DIN SIN IS YOUR COVERING. DEEP DARK SIN IS YOUR IMPENETRABLE CHOICE OF COVERING. EVEN THE LORD YOUR GOD IS FAR FROM YOU.
REPENT NOW, FOR THE KINGDOM OF GOD CANNOT BE DECEIVED, DROP YOUR UNHOLY WAYS AS A CHOSEN PEOPLE. DO NOT LET THE ANGER OF GOD BE VENTED ON YOUR SIN SECRETS
YOU ARE A SNARE ONTO YOURSELVES. YOU LOVE MEAT AND ALCOHOL AND UNRULY LIVING. YOU ARE A GREEDY NATION. YOU ARE A PEOPLE WITHOUT SCRUPLES. YOU ARE A BROOD OF VIPERS DEVOURING ONE ANOTHER
IF YOU WILL CHASEN YOUR HEARTS AND REMOVE THAT SEPULCHER FROM AMONG YOU, I WILL BE GRACIOUS ONTO YOU. SELLAH
ONLY JESUS CAN SAVE". SELLAH
PROPHECY TO THE PRESIDENCY
WHETHER IT IS JUBILEE HOUSE OR FLAGSTAFF HOUSE, HE WHO GOES NEAR THE SEAT OF POWER SHALL GO WITH CLEAN HANDS.
GOD IS NOT MOCKED THAT YOU SHOULD REACH OUT WITH SPEED AND SPREAD DECEITFULNESS IN HIS KINGDOM. YOU ARE NOT A WISE PEOPLE. YOU ARE SETTING YOURSELVES UP FOR JUDGEMENT. YOU ARE NOT KIND
PROPHECY FOR AFRICA
"YOUR FOLLY SHALL CONSUME YOU. YOU ARE A DISGRACE TO YOUR RACE. GOD SHALL JUDGE YOU FOR YOUR DISGRACE OF YOUR RACE IN A LAND OF MILK AND HONEY. YOUR FOOLISHNESS IS BEYOND BELIEF
WHY MUST YOU BE A LAUGHING STOCK WHEN I FASHIONED YOU IN MY VERY IMAGE WITH DIVINE IMPRINTS IN YOUR DNA. DONT YOU KNOW WHO YOU ARE, THAT EVEN I THE LORD DWELL IN YOUR MEMBERS?
WHY ARE YOU MINDLESS OF YOUR DIVINE IMPRINT, PREFERING TO MIMIC OTHERS OF A DIFFERENT MOLD. YOU ARE IN CONSCRIPTION DUE TO YOUR OWN FOLLY. YOUR LACK OF SELF LOVE.
YOUR LIABILITY TO PERCEIVE THE GOODNESS I HAVE DEPOSITED IN YOU. YOU PERCEIVE SHAME AND BLAME INSTEAD OF DIVINE INSIGHT. YOU ARE BLIND TO YOURSELVES. THIS IS YOUR LAUGHABLE FOLLY. IN ALL THY GETTING, GET UNDERSTANDING. GET KNOWLEDGE. BE WISE. BELIEVE IN YOURSELVES. BELIEVE ALSO IN ME. SELLAH
BE SOBER, BE VIGILANT, YOUR ADVERSARY THE DEVIL DEVOURS YOUR SOUL BECAUSE YOU ARE FOOLISH. LIKE CHILDREN YOU HAVE NOT OBTAINED MATURITY. READ AND LEARN FROM MY SERVANT SAUL WHO I ANNOINTED PAUL WITH DIVINE INSIGHTS. BE YE TRANSFORMED BY THE RENEWAL OF YOUR MIND SELLAH
UNIVERSAL HEALING GRACE
BE HEALED. BE SAVED. START A NEW LIFE IN CHRIST. LET THE HOLY SPIRIT BE YOUR EVERLASTING GUIDE. MY PEACE I GIVE TO YOU. NOT AS THE WORLD GIVES.
YOUR TEMPORARY TENT WILL BE SHED AND CAST AWAY, YOUR TRUE SELF WILL BE EXPOSED. WHAT THEN WILL YOU DO IN THE FLOODPLAINS OF THE JORDAN?
WHERE WILL YOU BE WITHOUT SALVATION?
SEEK YE FIRST THE KINGDOM OF GOD AND ALL ITS RIGHTEOUSNESS AND ALL OTHER THINGS SHALL BE ADDED ONTO YOU.
WHY ARE YOU SO HARD HEARTED AND IMPURE THAT YOU ARE DROWNING IN SIN AND CANNOT HEAR OR PARTAKE OF HEALING GRACE, THAT DIVINE OUTPOURING. BUT YOU CHANT: GOODNESS AND MERCY SHALL FOLLOW ME ALL THE DAYS OF MY LIFE AND I WILL DWELL IN THE HOUSE OF THE LORD FOREVER AMEN! INDEED! SELAH.
WISE UP, FOR WITH WISDOM YOUR WORLD WAS FRAMED.
FOUNDATIONAL SCRIPTURE: JEREMIAH 51: 15 "He has made the earth by HIS POWER; He has established the world by HIS WISDOM, and stretched out the heaven by His UNDERSTANDING".
THANKFUL PRAYER: "FATHER LORD LET YOUR PURPOSE BE FULFILLED IN MY LIFE. MAY YOUR WILL BE DONE AND YOUR HALLOWED NAME GLORIFIED. LET MY LIFE BE A SONG AND A PRAISE OF THY TESTIMONIES. LET YOUR DIVINE MYSTERIES BE REVEALED AND PERFECTED IN ME TO THE GLORY OF YOUR HOLY NAME BY CHRIST JESUS. AMEN"
HYMN MINISTRATION: BAPTIST HYMNAL 314; whosoever heareth Shout Shout the sound Send the blessed tidings all the world around, spread the joyful news, wherever man is found. Whosoever will may come. WHOSOEVER WILL, WHOSOEVER WILL, SEND THE PROCLAMATION OVER VALE AND HILL. TIS THE LOVING FATHER CALLS THE WANDERER HOME. WHOSOEVER WILL MAY COME
SCRIPTURE REFERENCE: FIRST
Finally my brethren, whatever things are true, whatever things are noble, whatever things are just, whatever things are pure, whatever things are lovely, whatever things are of good report, if there is any virtue and if there is anything praiseworthy mediate on these things. The things which you learned and received and heard and saw in me, these do, and the God of peace will be with you. Amen
Philippians 4: 8-9
SCRIPTURE REFERENCE: SECOND
Let us hear the conclusion of the whole matter: Fear God and keep his commandments, For this is man's all. For God will bring every work into judgment, including every secret thing, whether good or evil
Ecclesiastes 12: 13- 14
OTHER REFERENCES:
Isaiah 51: 1-21, JEREMIAH 11: 1-6, JEREMIAH 8:4 -9, ISAIAH CHAPTER 1:1- END
AMEN