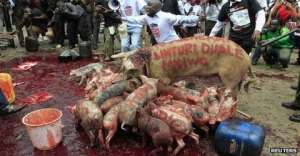 Pig owners in the Central Region are alarmed over a confirmed outbreak of African swine fever in the region.
The contagious hemorrhagic disease of pigs was confirmed by the Veterinary Services in the Region, Thursday night.
It is not clear yet how many pigs have been affected by the disease but the Service is taking proactive measures to stop its spread.
It has consequently placed a ban on the movement of pigs in the region and has written to the police service to help enforce the ban.
The police are however yet to draw a roadmap to control the spread of the disease.
Meanwhile, residents and pig owners in the area are worried the outbreak of the disease will affect the pig economy in the region.
They told Joy News' Richard Kojo Nyarko the disease may have dire consequences on their businesses.
African swine fever has no vaccines or cure which therefore has serious economic consequences for the affected regions.
According to the European Food Safety Authority, the African swine fever is not susceptible to humans.
The symptoms of the fever include loss of appetite, lack of energy, abortion, internal bleeding with haemorrhages visible on the ears and flanks. Sudden death may after ten days. Severe strains of the virus are generally fatal.
The main transmission modes for the African swine fever are contact with infected animals, including free-ranging pigs, bites by infectious ticks, contact with anything contaminated by the virus such as clothing, vehicles and other equipment.
Story by Ghana|Myjoyonline.com|NG