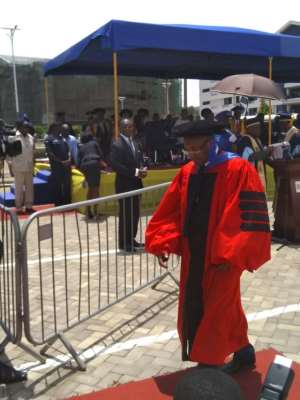 Ghanaian University, the University of Professional Studies has conferred an honorary doctorate degree on Ahmad Ahmad, President of the Confederations of African Football (CAF).
The honour was conferred on the CAF boss during a special congregation of the university in Accra on Wednesday attended by the President of Ghana, His Excellency Nana Addo Dankwa Akufo-Addo.
A number of African football federation presidents, as well as executive members of CAF also attended the event in support of the CAF President.
In his acceptance speech after the conferment of the award, Dr Ahmad Ahmad expressed his "deepest emotions and appreciation" for the honour.
"I accept t with humility, appreciation and pride this honorary doctorate degree"; Dr Ahmad stated.
"I dedicate this award to all the president of African football because they are the people who pushed me to this change in African football."
The special congregation also conferred an honorary doctorate degree on the founder of the university, Nana Opoku-Ampomah, whom President Akufo-Addo revealed, the university is being named after