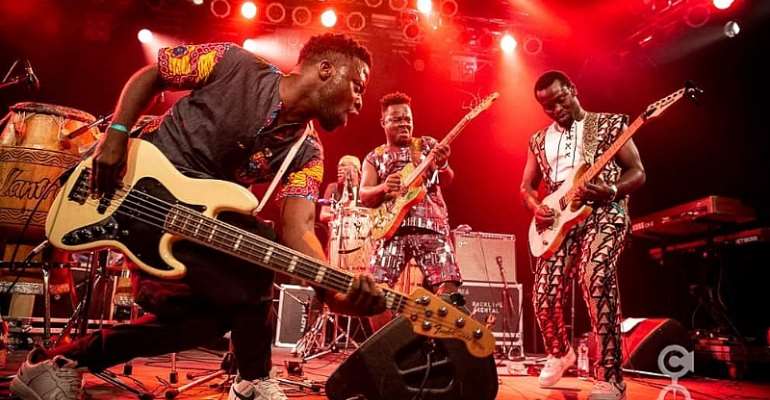 Ghana's fast-rising and top-notch highlife band, Santrofi, makes history as the first Ghanaian band/artist to have a debut album topping the World Music Charts Europe for the month of July 2020.
This brand highlife widget is definitely going places soon – You all should watch out.
The World Music Charts Europe (WMCE) is a platform that tabulates a once-a-month chart compiled from the reports of world music radio specialists and DJs from twenty plus European countries. It was founded in May 1991 by the European Broadcasting Union (EBU).
WMCE is undoubtedly the most comprehensive and reliable way of discovering what is new and exciting in the world music scene. As one of the world's distinguished music grading charts, World Music Charts Europe only features high-quality album by a band or an artiste.
Since the announcement on July 1, the new super-band has taken to social media to celebrate the achievement to the joy of their growing fans.
Santrofi is a new highlife powerhouse encompassing outstanding young musicians based in Accra. As one of Ghana's standout bands in recent years, Santrofi's international reputation has phenomenally been growing across the globe.
The band's exploits have seen them playing at many of Europe's leading music festivals including Roskilde Festival in Denmark, WOMAD Festival in the United Kingdom, Fusion Festival in Germany, Roots in Amsterdam, just to mention a few. The energetic young musicians have played with Ghanaian music heavyweights such as Osibisa, Pat Thomas, Ebo Taylor, Gyedu Blay Ambolley; and equally shared international stages with Ziggy Marley, Cardi B, Travis Scot, Chance the Rapper, Macy Gray, among other world's great acts.
Their debut album, "Alewa" released in April 2020 through German label Outhere Records is an excellent freshener with a mission to revive Ghana's golden era of highlife music. Alewa album serves a sumptuous music with a culturally rich content, beautiful up-tempo, rippling guitars, and groovy percussions skilfully executed with the requisite Ghanaian traditional rhythms, driving tight horns and gifted silky vocals.
"Alewa" is street slang for a popularly known local black-and-white striped sweet – a metaphorical weapon for the band as symbol of unity in diversity. And that track—as exemplified by the beautiful instrumentation—weaves in racism. Alewa advises us to recognize, accept, tolerate and embrace racial diversity to build a world with love and unity. Other standout tracks are "Africa" which starts with a snatch of a speech by Kwame Nkrumah, Ghana's first President, publicising his "United States of Africa" ideology. The song promotes his pan-Africanism. The screeches of market traders kick off "Adwuma", which celebrates hard work and enterprise and discourages envy. "Kwabena Amoah" admonishes jealousy; "Konongo Kaya" advises us to avoid the company of the greedy and conniving. The jaunty "Odo Maba", sees its narrator trying to win back the affections of a lover he has spurned; "Cocoase" is a song from under the cocoa tree begging a paramour to return, opening with more call-and-response singing and then sweeping up into energetic Sikyi Highlife. The last track, "Mobo" with a successful fusion of folk and blues encourages us to give praise and thanks to God.
The writer is with the Centre for National Culture, Kumasi.
He is a Creative Arts Director, Playwright & Critic.
Email: ej.peprahmensah@gmail.com
Source: Emmanuel Jewel Peprah Mensah