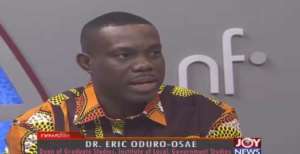 Challenges of over-congestion in classrooms and dormitories, inadequate desks and a lack of teaching and learning materials, and others that have greeted the Free SHS policy can be tackled by decentralising the Secretariat tasked to manage the policy.
According to Dr Eric Oduro-Osae, a lawyer, an Economist a local government expert, a decentrailised Free SHS Secretariat will fast track the response to what proponents of the education policy say are only teething challenges.
"We shouldn't have Free SHS Secretariat at the Ghana Education Service (GES) headquarters. We should have Free SHS Secretariat at the regional level, at the district level so they will be able to provide on-the-spot technical support as and when the problems arise," he said on PM Express on the Joy News channel Monday.
The implementation of free SHS programme in September this year was widely hailed by parents across the country because of the financial burden it promises to take away from their shoulders.
But the implementation has been fraught with challenges.
For instance, Joy News Upper West Region Correspondent, Rafiq Salam, has visited the Kaleo Senior High Technical School and reports students have concerns over the quality of food they are served.
There are reports of congestion at dormitories as first-year students flood the secondary schools across the country.
At least over 400,000 Junior High School graduates are expected to benefit from the policy that makes secondary education entirely free.
Students also receive one hot meal a day charged on government coffers.
Making further recommendations on how to improve the policy and arrest the challenges, Dr Eric Oduro Osae said Parent Teacher Associations (PTAs) must re-organise to improve situations in schools