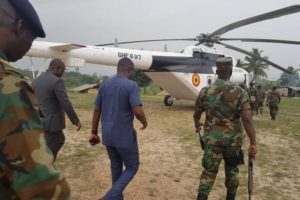 Defence Minister Hon. Dominic Nitiwul has ordered a Canadian Mining company C&G Aleska to desist from Mining in the Wassa Juabo forest, an area in the Western Region.
The Company has been mining in the area without permit and had had been ordered to stop in 2016 by the Mahama administration but the company however continued despite the warning.
Kumasi based radio station Abusua FM, over the weekend however reported that the activities by the C&G Aleska was still ongoing although Tarkwa High Court injunction order stopping it from mining in the forest.
On November 29, 2016, the Minerals Commission had ordered the C&G Aleska Mining Company to desist from all forms of operations as well as prospecting since prospecting license does not allow the company to mine in the forest.
The Spokesperson for Wassa Youth Association and the Agona Family in Wassa Juabo Evans Kwafo, said, "We thank President Akufo-Addo for addressing our concerns without delay. The Canadian Mining Company C&G Aleska is not mining in the forest again after the Defence Minister's visit. We strongly believe that the Canadian Mining Company C&G Aleska will go back to the site if government refuses to put measures in place to stop the company from mining permanently. The C&G Aleska miner must face the law for doing galamsey despite the Tarkwa High Court injunction order".
He confirmed that the Defence Minister visited the area to ensure that the company have dropped their working tools and has also deployed Military men to man the area against possible engagement in the activities which is destroying their lands.
He further charged the Court of Justice to take up the implementation of the Tarkwa High Court by pronounce judgment on the issue.
He further demanded that the government should charge the Canadian company to compensate the people of the Agona Family in Wassa Juabo and the community for the damages made to their water bodies.