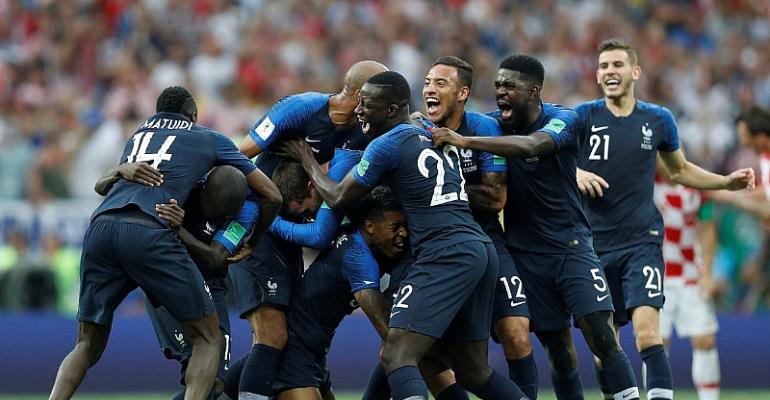 After France beat Croatia in the final match of the World Cup on Sunday, President Donald Trump quickly posted on Twitter to congratulate the French team, one composed largely of immigrants and the children of immigrants.
"Congratulations to France, who played extraordinary soccer, on winning the 2018 World Cup," Trump wrote.
On France's 23-member team, 19 of the players are immigrants to France or the children of immigrants. Just to name a few: Antoine Griezmann, the team's leading scorer, is half-German and half-Portuguese. Samuel Umtiti, who scored the goal that sent France to the final, was born in Cameroon. Kylian Mbappe, a teenage prodigy, is part Cameroonian and part Algerian.
Congratulations to France, who played extraordinary soccer, on winning the 2018 World Cup. Additionally, congratulations to President Putin and Russia for putting on a truly great World Cup Tournament — one of the best ever!
Other players and their families hail from places such as Martinique, Cameroon, Morocco, Congo, Angola or Algeria, many of which Trump would have classified under his infamous "shit hole" designation.
"The diversity of the squad is in the image of this beautiful country that is France," midfielder Blaise Matuidi, born in France to African parents, said Friday, the Los Angeles Times reported. "For us, it's superb."
Trump's praise of the team comes despite his hardline anti-immigration stance. At the end of last month, the U.S. Supreme Court upheld the president's controversial travel ban that targets several Muslim-majority countries.
Washington's policies under Trump have also drawn national and international condemnation after thousands of migrant children were separated from their parents along the U.S. border with Mexico.
When it comes to Europe, the president has also been a frequent critic of the continent's approach to immigration. On numerous occasions, Trump has blamed immigrants for problems on the continent. To justify such claims, he has often used misleading or inaccurate news reports about crime in various European countries.
France just won the #WorldCup

19 of its team's 23 players are immigrants or the children of immigrants

Speaking in London on Friday, Trump blasted immigration once again, saying it has been "very bad" for Europe.
"I think what has happened is very tough. It's a very tough situation," Trump said. "I just think it is changing the culture, I think it is a very negative thing for Europe."
As for France's team and its many fans, they may disagree.
"We are proud to represent this beautiful jersey," Matuidi said, the L.A. Times reported, "and I think the people are also proud to have a national team like that.