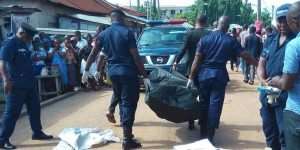 A 33-year-old pastor under training at the Trinity Theological Seminary, Benjamin Adu Boateng, met his untimely death on Sunday night when a car hit him against the wall of a house at Madina Estate.
The driver, a Nigerian whose name is only given as Richmond, is reported to have been tipsy and was driving without a license.
It took the intervention of a police officer from the La-Nkwatanan-Madina Divisonal Police Headquaters to save the driver from irate residents who vowed to burn the driver in his car over the death of their neighbour fondly called Paa Kwadwo.
The deceased, who only married earlier this year, is survived by a widow who is an expectant mother.
How it happened?
According to the deceased's prayer partners, they had just left a prayer meeting on a Sunday night. He parked his car and strolled to buy some electrical materials and fruits for his wife around the taxi rank close to the District Magistrate court at Madina Estate.
Eyewitnesses say the driver, reversing on top speed knocked him off the road and threw him over a small open gutter. His head hit the wall of a house in the process.
It took vendors around to raise alarm as his lifeless body was under the car.
Police response
The police first arrived at the scene in a taxi in a bid to apprehend the driver and save him from mob attack. The angry mob smashed the windscreen of the taxi, a source at the Police station told Citi News.
Meanwhile, a police pick up picked the lifless body about an hour later. It has since been deposited at the Police Hospital mortuary.
Family files report
Distruaght siblings of the deceased, were spotted at the La-Nkwatanan-Madina Divisional Police Headquaters late night filing their report at the MTTU. They couldn't not say anything to Citi News.
What will happen?
The cop on duty, Coporal Saani Mohammed told the family the suspect is in cell to be prepared for court. He explained that the suspect cannot be bailed except the court orders accordingly.
He told the family that he is handling about three of such cases.