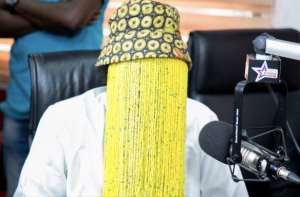 Well-versed investigative journalist,Justice Kwaku Annan has denied claims by Anas Aremeyaw Anas alleging that he was bribed to discredit him after the public broadcast of the expose on the Ghana Football Association, 'Number 12'.
Anas , petitioned the National Media Commission (NMC) to investigate Justice Kweku Annan who is a presenter at Hot 93.9FM for denting the image of his Tiger Eye Pi team and that of his mentor, Abdul Malik Kweku Baako Jr.
In the petition, Anas claimed that the attacks by Mr. Justice Annan, aimed at discrediting Tiger Eye Pi's investigative works, began prior to and after the public broadcast of the team's expose on the Ghana Football Association, 'Number 12'.
Anas revealed further in the petition that, Mr Annan asked Anas' undercover operatives to pay an initial deposit of GHC35,000 to contribute to a project to destroy Anas, Tiger Eye PI and Kweku Baako, the Editor in Chief of the New Crusading Guide.
But speaking exclusively to Razzonline.com ,Justice Kwaku Annan indicated strenuously that,he never started investigating the evil deeds of Anas after the 'Number 12' expose':
"Yes, I never knew it would get to a level in the history of Anas Aremeyaw Anas that when someone accuses he Anas he will report that person to the media commission…hahahahaha…look, I never started investigating Anas after the 'Number 12' expose' no !…everyone who listens to my show "Ghana must know' on Hot FM will attest that I didn't start revealing the evil deeds of Anas in 2018, i started investigating Anas from 2017 so in the first place Anas lied",Justice told Razzonline.com
Justice explained, "my investigative company, called Hawk investigative company, we are doing a consultancy service for custodians of the land of Dade Kotopon at Labadi in Accra….a vast land covering the military zone,airport etc…they've accused Anas to have infiltrated on their land including a land belonging to NPP's Ken Ofori-Attah… Anas has formed a land guard brigade who are terrorising people in the area so i called Anas and he agreed to have done that– which he brought a copy of what he Anas claimed to be the judgement from a court but it wasn't a judgement but a ruling …".
Touching on whether he took money from Anas' operatives, the 'Ghana Must Know' host,again explained to Razzonline.com that:
"Hahahaha…when I started the expose' on Anas…i knew extremely well that Anas and his operatives were going to come after me so we were very prepared to receive them equally…so one day after my show I received a call from a guy who claimed to be a nephew of a man who is involved in that 'Number 12 expose'…so we arranged and met at Afrikiko…when the guy came he was having a bag with a camera hidden on it ….i saw it but I was ready to do any legitimate business with them … I will soon come out and explain what really happened".
Justice Kwaku Annan who was so much disappointed in Anas ,condemned the journalistic priories of Anas and dared the award -winning Journalist to produce the vivid evidence of what transpired between them.