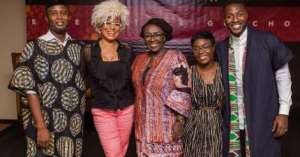 Telling Tall Stories, the annual thought leadership seminar by the Kuenyehia Trust for Contemporary Art, this year made quite a statement with its theme, 'E Be Art We Go Chop! The Role of Arts & Cultural Entrepreneurs in Developing Ghana'.
'E bey Art We Dey Chop!' not 'Go Chop' was the panel's stance. They were categorical that their artistic disciplines were economically viable and sought explore the contribution of the arts and cultural industry to the entrepreneurship drive in the country in recent times. Award winning fashion designer Bee Arthur was emphatic that there is no economic sphere without art. Art permeates every aspect of life. She called out the private sector for not investing in the arts as is done in advanced countries.
In veteran actress and cultural activist Dzifa Gomashie's opinion it was unfortunate that the business of art is not taught in Ghana at an early age but rather the passion of art is the focus. As a former Deputy Minister of the then Ministry of Tourism, Creative Arts and Culture she advised that artists from the different artistic disciplines unite to be a force to reckon and work with the current ministry to push for changes that would create the enabling environment and structures for artists to make even more impact on the country's development because they do count.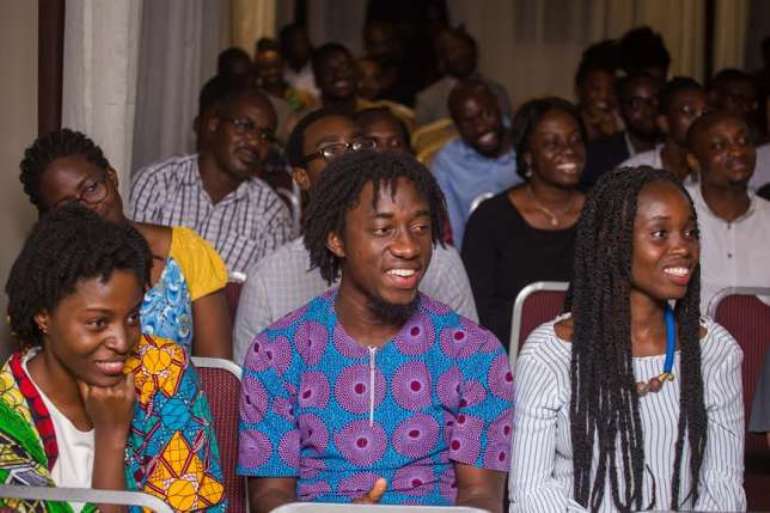 'E Be Art We Go Chop!' says the Kuenyehia Trust for Contemporary Art
Ace musician Okyeame Kwame on the other hand felt that artists were pre-occupied with expressing their creativity and rather needed stakeholders including managers to drive this agenda. He was quick to point out that he was yet to see any institution offering a diploma course in art management and wished the Ghanaian educational curriculum for the arts would evolve to accommodate the growing industry.
The evening was not without its highs with artist Comfort Arthur, 1st runner-up of the 2018 Kuenyehia Prize for Contemporary Ghanaian Art, applauding progress made in the industry. She described gains made in animation on the African continent in the face of funding challenges. The evening ended on a mixed note. Some felt significant progress could not be made without the government's role in systems, policy and funding. Others felt they would do just fine with or without state support. The thought leadership seminar made possible by MTN Ghana Foundation, was ably moderated by Michael Amaning of Invest in Africa.
In its third year, Telling Tall Stories is convened by the Kuenyehia Trust for Contemporary Art to contribute to efforts to refocus intentional attention on the arts in policy and practice in Ghana.