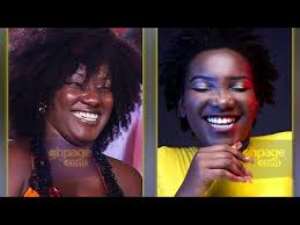 Sister of late Dancehall sensation Ebony Reign, Adwoa Poku Kwarteng has released a first freestyle video after her dad Nana Opoku Kwarteng announced that he was grooming her to take over from where Ebony left off.
In a new video sighted on social media, Pokuwaaa was seen singing to Efya's "Until the Dawn" and what surprised us was her unique voice.
Some weeks ago, Nana Opoku Kwarteng in an interview revealed that he was in the process of grooming his eldest daughter to take over Ebony's place since she is the best person to take over her place.
We can't confirm that this new video from Pokuwaa is set to announce her take over in the music industry or she is just enjoying herself by recording the video.
Watch the video below: