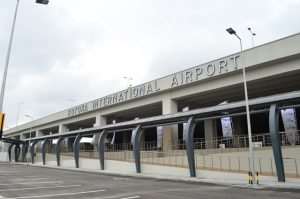 The Minority in Parliament have questioned the government's decision to indefinitely postpone the official commissioning of the newly constructed Terminal 3 at the Kotoka International Airport.
The news of the postponement was reported on Monday evening following a downpour that left many with speculations that part of the new terminal had been flooded.
Although the Ghana Airports Company Limited later discounted the claims, rumours were rife that the commissioning of the terminal, which was supposed to be done by President Akufo-Addo today [Tuesday], had been indefinitely postponed.
The said postponement is yet to be confirmed by government.
The Ranking Member on the Transport Committee of Parliament, Kwame Agbodza in a Citi News interview said they have been made aware about the government has taken the decision to cancel today's event.
"The value we'll derive, the mileage we'll get for showcasing Ghana at this stage, is not something we can pay for. We are going to lose for actually pulling the plan last minute…. I am told that flight is fully booked simply because Ghanaians and others are coming in to showcase Ghana a big way. It is a big thing… I think this is a shame and government must answer the questions."
The official opening of the $250 million Terminal would have seen the ushering in of the world's biggest commercial plane, the Airbus A380 owned by Emirates and captained by a Ghanaian, Captain Nana Quainoo.
Meanwhile, the Minority spokesperson on Foreign Affairs, Samuel Okudzeto Ablakwa has hinted that the cancellation of the commissioning may negatively impact Ghana's relationship with the United Arab Emirates.
As Ranking Member on the Foreign Affairs Committee of Parliament, I am terribly worried about what this pettiness does to brand Ghana and the ramifications for future strategic partnerships with the international business community with its resultant effect on the already struggling Ghanaian economy. And as for our official ties with the United Arab Emirates; if what I am picking up is exactly the case, then we must begin to tighten our seat belts for the turbulence ahead in our diplomatic relations, Ablakwa said in an article on the matter.