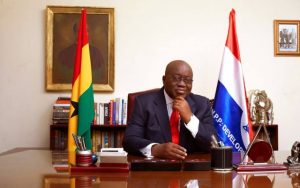 Nana Akufo-Addo is the president-elect of Ghana, the country's Electoral Commission Chair, Mrs Charlotte Osei has declared.
Mr Akufo-Addo of the opposition New Patriotic Party (NPP) beat incumbent John Mahama and five other candidates to be lucky in his third try at the presidency.
Out of 10,781609 total valid votes cast, Mr Akufo-Addo, according to the EC polled 5,7160226 (53.85%) while his arch-rival Mr Mahama polled 4,713,277 (44.40%).
The other candidates had the following votes:
Dr Papa Kwesi Nduom (Progressive People's Party) – … 105,681
Dr Edward Mahama (People's National Convention) – … 22,214
Ivor Greenstreet (Convetion People's Party) – … 25,398
Nana Konadu Agyeman-Rawlings (National Democratic Party) – … 16,878
Jacob Osei Yeboah (Independent) – … 15,889
Total number of votes cast 10,781,609
Total rejected ballots 166,248 (1.4%)
Total turnout was 68.62%. The EC had anticipated 80% turnout a day to the polls.
The results announced by the EC excludes figures from four constituencies: Afram Plains North, Upper West Akyem, Tuna-Sawla-Kalba, Tamale Central.
Prior to the declaration of the results, the two major parties had each claimed victory.