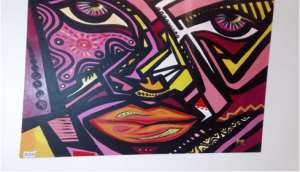 Khaki Caesar, a Ghanaian artist whose work which comprises of elements of Ghanaian culture, tradition, was on display at the Accra City Hotel on Thursday.
The display which brought dignitaries from the art industry and foreigners from other country became Khakis twelfth exhibition dubbed 'Rebirth'.
The Guest of Honor of the exhibition was Nana Anoff who is a collectable artist in Ghana with several patrons including the government who placed his painting 'Digging Out the Truth', which highlights the plight of African women, in the Supreme Court building and also a choice of artist to create a gift for U.S First lady Michelle Obama, during 2009 Presidential visit.
In a talk, Mr Anoff advised the youth to engage in the art industry and work very hard to achieve their aim. Everything that we see is about art. The exhibition is a new birth in the art industry and is time government and other stakeholders invest in the art industry. For him seeing people smile when they see his work always reminds him of why he does what he does.
Born artist, Esther Khaki Caesar; a graduate in painting, graphic designing and textiles from the Ghanatta College of art and design has experiences in all fields of study and now majoring in painting, poetry and sculpture
Khaki art pieces speak enigma, ranging from flat objects to living images and poems on canvasses, walls,books-think of any surface often baffling the observer and compelling him or her to solve the puzzle, then tell their own stories through the ideas.
She create unimaginable art pieces which sneaks themselves into the minds and heart of the people, triggering enchanting emotions from out of this world.
The medium of her art include broad brush stroke, acylic, pencil charcoal, mixed media that end up as stylized human figures allowing the piece of work made to sparkle.
Most of her work had been commissioned to paint murals on walls in certain private hospitals, companies and especially homes both in and outside the city of Accra. This gave her the privilege to exhibit with renowned artists like Beety Aquah and many more. 'I Love to meet and collaborate with other artists and corporate organizations to help bring positive change into my community through the art''.Whatever you practice today is a key to a door tomorrow, pactice makes man perfect''.
The art pieces under her pen name Kaki; you cannot help but take home or other for a breathtaking decorative piece.
Also present at the Accra City Hotel to display talented cultural art was Kwame Adjei who had being in the industry for a longer number of years.