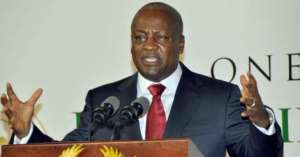 Ex-president John Dramani Mahama has lashed out at the New Patriotic Party (NPP) for using 'lies' to win political power.
The NPP won the 2016 elections by a landslide margin, defeating Mahama and the National Democratic Congress (NDC) in just the first round.
Led by Akufo-Addo, the NPP polled a whopping 53.85% of the total votes cast, whiles the NDC embarrassingly recorded just 44.40%.
However, Mahama believes the current administration would not have won the election had they engaged in a clean campaign.
" data-width="644″>
">Post by
According to him, Akufo-Addo and the NPP used lies and deceit to win power, but will soon be exposed by the actual living state of citizens.
In a Facebook post, Mahama wrote: 'You can engage in, and tell all the lies to win political power, when you are in government the reality of peoples' lives will expose you.'
Mahama, who is on a campaign tour in the Northern region, has also previously criticised the current administration for abandoning all his projects.
He said almost all the infrastructure projects his government commenced have been abandoned by Nana Addo and the NPP government.
"It is a pity because everything that we started has come to a standstill. I go round the country and most of the roads, where we left them on 7th January 2017, that is where the roads have ended. All the community based Secondary Schools, where we left them on 7th January 2017, that is where they have ended,' the NDC flagbearer aspirant said on his Northern region tour.